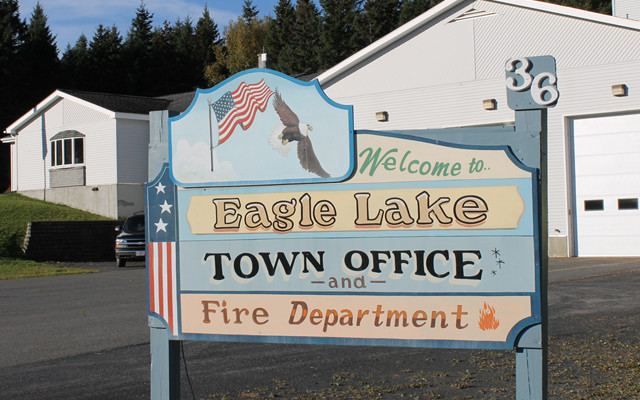 Eagle lake
File photo - Eagle Lake Town Office sign. Eagle Lake, Maine (Don Eno | SJVT/FhF)
Eagle Lake board seeks help to notify owner of alleged illegal 'junkyard'
EAGLE LAKE, Maine — Selectmen voted Wednesday to have a deputy with the Aroostook County Sheriff's Office serve a letter to Mark Violette regarding an alleged illegal junkyard on property he owns on Convent Road, according to Town Manager Sandra Fournier.

The selectmen went this route because Violette refused to accept registered mail from the town, according to Fournier.
Violette is one of two property owners town officials have been working with in the past year to resolve issues of cars, tires and other materials being stored for long periods of time at locations that are not permitted as junkyards, the town manager said
The other individual, Ricky Saucier, has since cleaned up his property on Aroostook Road, Fournier said Thursday.
Violette had told town officials last summer that his property in Eagle Lake was a storage annex for his Fort Kent-based Lakeview Motor Sales, Fournier said.
However, after researching that claim, Fournier said the town determined that Violette still has to follow the appropriate state regulations pertaining to storage of vehicles and related materials at the site, even if it is an annex.
The town does not have a junkyard ordinance, but follows state statute 30-A M.R.S.A §4452 regarding such sites.
The letter being delivered to Violette is requesting that as a dealer, he provide the appropriate documentation showing that the vehicles in question are currently being offered for sale, are in the process of repair, and/or are temporarily being stored at the location for less than 180 days as specified under the law, Fournier said.
"We are asking the property be cleaned up," Fournier said Thursday. "We are also asking for this cleanup to begin within 60-days from receipt of the letter."  
Selectmen have yet to assess fines or take legal actions against Violette. Fournier said she and the board are still hopeful the parties can discuss the matter and come up with an agreement.
"We are hopeful Mr. Violette may be able to begin this process by April. If not, then of course to reach out to the town to make other arrangements," Fournier said.   
Violette told the Fiddlehead Focus on Thursday that the Convent Road location is a commercial property and serves as Lakeview Motors' "reconditioning" location.
"Those cars will be sold eventually," he said.
Violette said that the situation may involve more of a misunderstanding between himself and town officials, rather than a violation of state law. He said, he understands the efforts to clean up other private locations in town that may have been illegal junkyards, but that his site seems to have been caught up in those efforts.
Violette said the Convent Road site is not a scrap yard and that it is his understanding it is does not fall under the state definition of a junkyard because it is part of a used car business.
Violette, who started Lakeview 37 years ago at the Eagle Lake location, said he has spoken with state officials about the matter and that they suggested he designate the Convent Road site as a "secondary location" for the licensed used car businesses.
That would entail adding required signage, which Violette said he intends to do in the spring, once the snow has gone.
"We won't be selling cars from there, just working on them," he said. "It's a commercial property already."
In other town business Wednesday, Fournier informed board members that Shirley Bartlett will no longer be providing assessment agent services after this year. Bartlett has been the town's assessing agent for two years, working on real estate and personal property valuations, including new home construction.
Bartlet is a contractor and not a town employee. Fournier said Thursday that same arrangement will likely continue with any new assessor, although the board is open to other options.
The town manager said she expects to go out with an initial request for proposals some time this summer, seeking a contracted replacement for Bartlett.