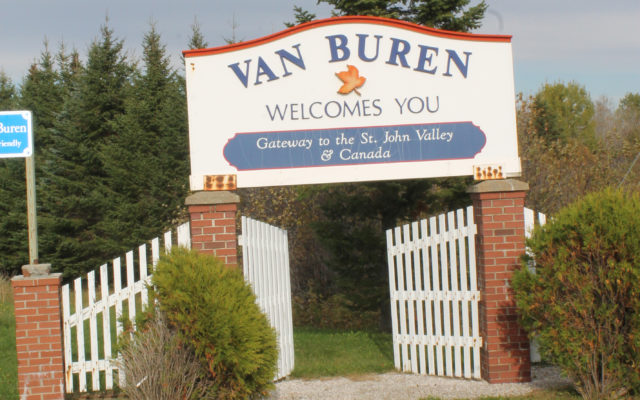 Van Buren town sign DE
(Don Eno | SJVT/FhF)
Town moves to acquire old Gateway Elementary School
VAN BUREN, Maine — The former Gateway Elementary School in Van Buren, which closed in 2006, is one step closer to being repurposed. Van Buren Town Manager Nancy Troeger discussed the pending transfer of the school from Maine School Administrative District 24 to the town at Tuesday's board of selectmen meeting.
"I'm really pleased, Troeger said Wednesday morning. "We're working cooperatively with the school."
Gateway opened in 1975 when several smaller schools in the Van Buren and Keegan area consolidated. Since 2007, all elementary, middle and high school students have attended school at a single campus in town, which had previously been the middle/high school.
Troeger, who became town manager in May 2017, said her focus has been economic development. She said the move would allow for expanded opportunities to use the dormant school building.
"There are ideas galore," Troeger commented. "If you asked a dozen people in town they'd all have different ideas."
The relatively new building is located about half a mile from Maine Street/U.S. Route 1 in Van Buren.
Any plans on the building's reuse are "off in the future," Troeger said.
First, the school district and town need to complete the transfer of ownership paperwork, which could take a couple of months, she said.
Troeger said selectmen agreed to the transfer, as long there was no cost to the town other than taking over the liability insurance the district has provided since closing the school.
After that, selectmen intend to transfer ownership and management to the Van Buren Economic Development Corporation, a quasi government, non-profit entity created in 1993.
"Towns are not in the business of being landlords," Troeger said. "Having the former school property under the management of the corporation will allow me flexibility when it comes to leasing or selling the property and applying for certain grants to enhance its future," she added.
The corporation also owns the industrial park, located on Route 1, just outside of downtown.
State statute allows the town the right of first refusal. The district had sought buyers in the few years after the school closed. However, selectmen were not interested at that time and no other buyers came forward.
Although the building was heated for a few years following its closure, Troeger said it has been unheated for the past several years. She made no comment on the building's condition.
In other town business Tuesday, selectmen reviewed a change to the town charter recommended by Troeger.
The single-topic amendment, which is allowed to be put to votes without convening a full charter commission review, would change the town clerk and membership on the town's finance committee from elected to appointed positions.
Many towns in Maine now appoint, rather than elect, their town clerk. With so much training required of clerks, Troeger said it made little sense to potentially lose a trained person each year when annual municipal elections take place.
She also commented that it is difficult to get people to run for positions on groups like the finance committee, and it would be a better process if selectmen could appoint qualified and interested people.
The recommended charter amendment will be brought up at a future pubic hearing and then placed in front of voters at the annual town meeting in June.
Selectmen also discussed pending police department personnel contract changes during an executive session Tuesday. Troeger was unable to provide much detail, but confirmed the selectmen took no action in the session.
Troeger is the town's negotiator in talks concerning employment contracts with the department's two full-time officers. Police Chief Michael Bresett is not represented by union, as he is a supervisor, Troeger said.
The current contract expires in 2019, but Troeger said all parties agreed to open negotiations early to explore new options. She hopes to have changes approved by April, if the parties agree.