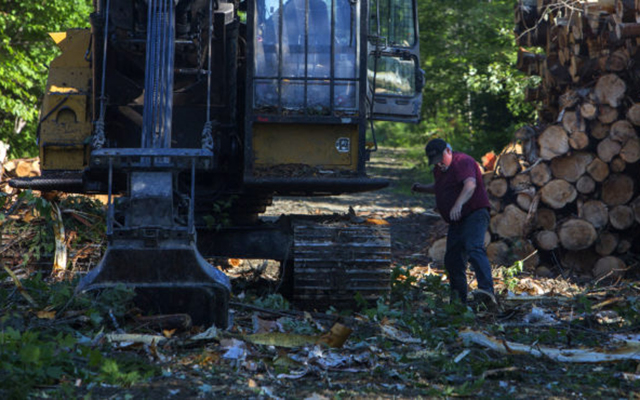 50650121_H15619865-600×370
Fewer loggers are dying in the Maine woods, but health risks mount as profession grows sedentary. (Ashley L. Conti | BDN)
Fewer loggers are dying in the Maine woods, but health risks mount as profession grows sedentary
For Mainers who work in the woods, injuries and health risks are a fact of life.
"You can twist an ankle or be struck by something, get hit by falling branches or a dead tree or have a limb come back and smash you in the face. It's just the nature of the beast," said logger Erik Carlson, 47, of Edgecomb. "To think you're not going to come home once in a while bruised and bleeding is just ridiculous."
Carlson has worked in the woods for more than 20 years, both as a consulting forester and a self-employed logger. He's what is known as a "conventional logger," meaning he harvests trees the old-fashioned way, with a chainsaw and a skidder. That exposes him to more immediate dangers than a "mechanical logger" who operates a feller-buncher or other mechanized equipment from inside a closed cab.
"Mechanized [logging] is exponentially safer," Carlson said, waiting while his skidder warmed up on a recent frosty morning. "But on the other hand, you're just sitting there all day. You don't get any more exercise than a truck driver."
That sets mechanical loggers up for obesity and associated illnesses such as heart disease and diabetes, as well as for back injuries, muscle sprains and other problems linked to lack of strength, flexibility and muscle tone.
The Fiddlehead Focus / St. John Valley Times is pleased to feature content from our sister company, Bangor Daily News. To read the rest of "Fewer loggers are dying in the Maine woods, but health risks mount as profession grows sedentary," an article by contributing Bangor Daily News staff writerMeg Haskell, please follow this link to the BDN online.