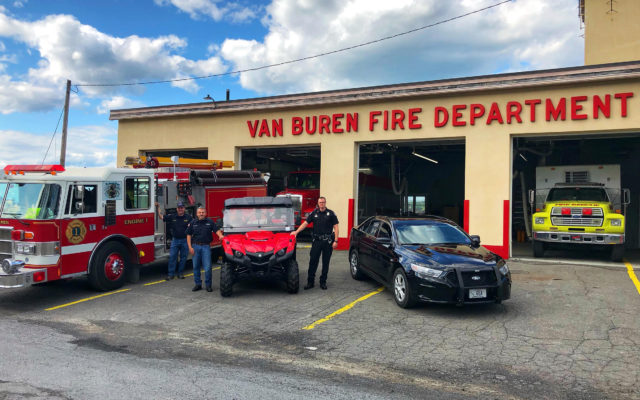 66358530_365419370842657_4025776213518712832_n
From left to right, Brian Caron (fire chief), Pete Madore (fireman), and Officer Nate Chisholm (K-9) stand with their new ATV they purchased with grant money to be used for law enforcement, fire, search and rescue. (Morgan Mitchel)
Van Buren police and fire departments get grant for ATV
VAN BUREN, Maine — The Van Buren fire and police departments will soon rescue and enforce in style after they complete outfitting a new $15,000 ATV side by side they were able to purchase through a $10,000 grant. 
The bright red, three-seater ATV will be used by both departments. While the Van Buren Fire Department will use it for search and rescue, fire and rescue, and to transport firefighters to wildfires, the Van Buren Police Department will use it to enforce laws on the trails. 
Following a weekend with multiple ATV crashes, Officer Nate Chisholm said it is important that the police have a presence out there on the trails to enforce safety laws.
"We want people to see us out there, so they know that 'hey, you might run into a cop out here,'" he said. 
Chisholm added that the department used to have to borrow side by side ATVs from people in town — which posed a liability problem — or they had to walk. 
"If we pop a tire or something, and we are using a civilian's ATV, we could get in trouble for that," Chisholm said. "But now we have this ATV that we can drive."
The ATV was purchased with funds from a grant that Van Buren's Pete Madore, a firefighter for the department, wrote and sent in to the Maine Outdoor Heritage Fund. 
"The grant process was pretty elaborate and competitive," Madore said. "When we submitted the grant we had a lot of support letters." 
The letters of support came from the Warden Service, Forest Service, and Grand Isle and Van Buren ATV clubs. Madore added that the ATV will benefit everywhere from Cyr Plantation to Grand Isle for search and rescue missions, as well as trail enforcement and fire response. 
In the event of an accident where first responders need to bring victims out of the trails, the departments share a rescue boggan that is pulled on a trailer behind the ATV in the summer and behind a snowmobile in the winter. 
"We will use it for search and rescue, wildland fires, or whatever we deem necessary out in the woods or on the trial system," Madore said. "We're very lucky and thankful to have received this grant."