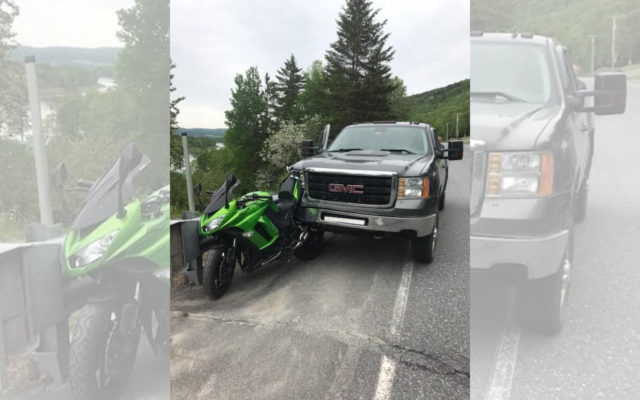 24986539-Feature
The driver of this Kawasaki motorcycle was ejected from the bike during an accident on Thursday, June 13 in Fort Kent. The pick-up truck that struck the Kawasaki dragged the motorcycle for several hundred feet. (Courtesy of Fort Kent Police Department)
Pickup drags motorcycle several hundred feet following collision
FORT KENT, Maine — A motorcyclist escaped serious injury after a pickup truck struck his bike and dragged it along several hundred feet of roadway.
Michel Carrier, 35, of Riviere–du–Loup was operating a  2014 Kawasaki traveling west on Route 1 in Fort Kent shortly before 2:45 p.m. on Thursday, June 13.
At the same time, 42-year-old Kenneth Dube of Wallagrass was traveling behind Carrier in a 2011 GMC pickup.
Dube possibly attempted to pass the Kawasaki when his GMC collided with the motorcycle causing the bike to remain attached to the pickup, according to Fort Kent Police Chief Tom Pelletier.
Carrier was ejected from the motorcycle, which the GMC dragged for several hundred feet down the road, according to Pelletier.
"Carrier was wearing protective clothing and a helmet which helped to prevent serious injury," Pelletier said.
The motorcyclist escaped with only minor cuts and abrasions on his hands.
Twin's Service Station of Fort Kent towed both vehicles from the scene.
The accident remains under investigation, but alcohol was not a factor, according to Pelletier.