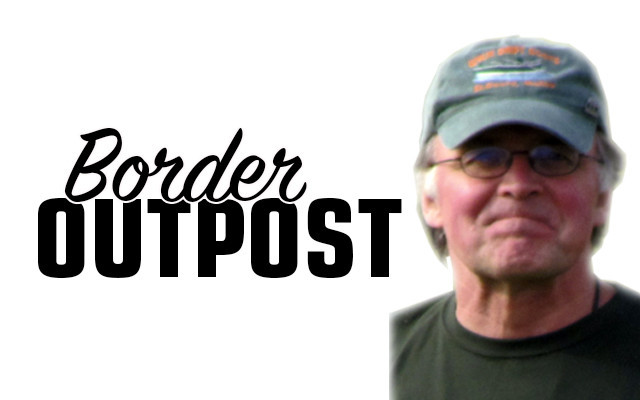 BorderOutpost-Wylie-640×400
I remember Marshall
At this age, characters come in and out of focus in one's dreams or waking memories. I remember Marshall Dodge. Except in the dream I had last night, his name was Ward Johnson in the obituary I was looking up.
For those of you who think either name vaguely familiar, Marshall Dodge was a "Maine-themed comedian and raconteur" of "Bert and I" fame back in the 1980s and before. I spent an afternoon with Marshall, who then would have been at least a decade older, chauffeuring him in my Volkswagen Beetle to several high school engagements. This was here in northern Aroostook County. That would be at least 40 years ago or more, well before Marshall was killed in a hit-and-run accident on a bicycle in Hawaii.
The dream was only about an obituary of someone my sleeping brain named Ward Johnson departing this life at age 72, and me thinking that was rather young or premature. Of course, the real Marshall Dodge died much earlier and more tragically. I recall being much affected by Dodge's actual death. When you literally rub shoulders with someone — and I mean that in the sense that a Volkswagen Beetle forces one into a similar predicament — you remember that person.
My recollection, however brief, was not as the storyteller Dodge, but of the philosopher Dodge. In the Volkswagen, he would re-assume his ordinary accent, talking with me not in a Downeast Maine drawl, but a plain, barely inflected New Yorker's speech. I would probably have thought the New York accent pronounced in those days.
We talked politics. Even as my current political views trend continually leftwards, I must have seemed like some backwoods yokel to him. One's exposure to political thinking was at best rudimentary, and sitting beside me was a genuine highly educated philosophy major. I don't remember the content of the conversation I had with Marshall, but I recall the tenor; the calm well-reasoned approach, interspersed with dry humor. It would have been the approach of a teacher of philosophy, if not a philosopher had he lived and evolved into that role. What better way to teach than to weave stories. He would have been masterful.
I care nothing for celebrity nor is this about celebrity. I've met and interviewed people who attained world renown and think little of the experience. What affects me most is the calm, deliberate and well-reasoned approach to things that people with a genuine sense of humility have. Perhaps that's what I detected, even in my early upbringing, in Marshall Dodge. It would have been so out of character to others who would have only known him as a funny Maine-accented storyteller.
I wonder, though, if a dream has shaped this narrative, giving it an authority that time and subconscious contemplation give to actions and events that one would otherwise dismiss. Who knows? I've managed to live well beyond the years that Marshall Dodge had, and how people affect one is forged and tempered by age and experience. I tend to see things as how they might have been as well as what they are. Time and logic leave a shape-shifting impression.
I get the impression of speeding through life in a Volkswagen-shaped time capsule and having a momentary encounter with a fellow traveler. The dream is just a mnemonic device that makes one aware of that encounter and the impression it left.
I remember Marshall Dodge. I wish he had lived longer. There was something to the man that only more time would have made.
Dave Wylie's life and work experience runs the gamut from newspaper editor to carpenter to grant writer to boat builder with lots of other work wedged in-between. Wylie currently is president of a management company that oversees an elderly housing complex and president of the local historical society. He resides in Madawaska.