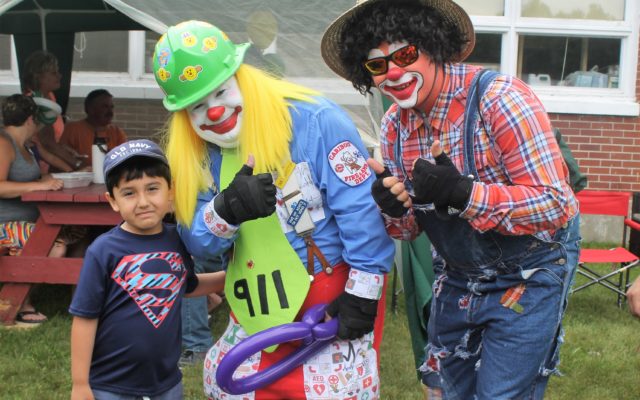 funday3
Chayo Flores (left) meets with clowns at the St. Francis Community Center during the fourth annual St. Francis Fun Day on Saturday, July 8, 2017. (Jessica Potila)
Family fun with Friend's of St. Francis slated for July 6
ST. FRANCIS, Maine — The Friends of St. Francis is hosting the sixth annual Family Fun Day Saturday, July 6, at the St. Francis Community Center with a day filled with family activities.

The Friends of St. Francis is a small group of people who are attempting to make St. Francis a better place to live, according to Cindy Jandreau, a member of the group.
"We purchase and put up flags from one end of town to the other," Jandreau said. "We do roadside garbage pickup to keep our town beautiful."
The group also has put on various events for the children in the community including Halloween activities and Christmas parties.
"We light the town Christmas tree, too," she said. "We have an advertisement board to keep the town's people up to date on events, and we have purchased tables and chairs to be used for events at the community center."
This year's Family Fun Day kicks off with a parade. The parade will include trucks, tractors, motorcycles, politicians, bands, Boy Scouts, Girl Scouts, the local church, cancer survivors, classic cars and animals.
After the parade, there will be a veterans memorial ceremony at St. Francis Historical Society. The group also has planned a special meal for attendees.
"We have invited local nursing homes and assisted living residents to come," Jandreau said. "Especially the people from St. Francis. Forest Hill has committed to come with their van — we will provide a free meal to the residents and the workers that come with them. This is so these people who are not able to come home get to come home for a while and see people they have not seen or may not have a chance to see."
There will be a day filled with games and events for the whole family. There will be food, and craft vendors selling home decor, jewelry, plants homemade soaps, homemade blankets, pillows, purses and more.
"This event is to give back to the town of St. Francis people," she said. "[And] to encourage people who have left to come and visit."
Anyone interested in being part of the parade should contact Dale Taggett at 207-398-3303. Jandreau said the group also is encouraging sponsor support. Interested sponsors should contact Jandreau through the Friend's of St. Francis Facebook page.