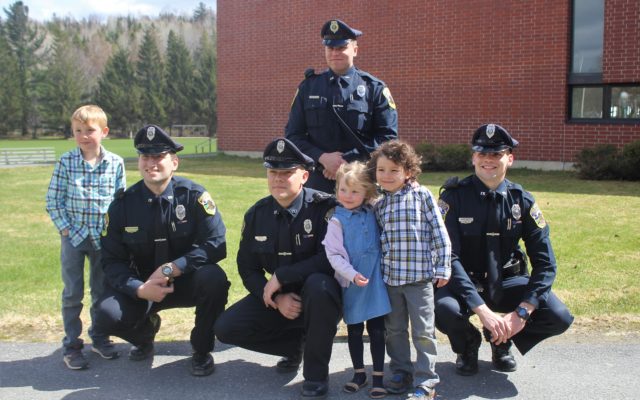 umfkgraduation9
Three youngsters whose mother graduated from the University of Maine at Fort Kent on Saturday, May 11, were eager to have their photo taken with a group of Fort Kent police officers following the commencement ceremony at the UMFK Sport Center. Naturally, the officers obliged. Participating in the photo op are, from left front, Nigel McKellar, Officer Curtis Picard, Officer Cole Pelletier, Julia McKellar, Joel McKellar and Officer Connor Lapierre. Standing is Officer Trevor Bellefleur. (Jessica Potila)
Officers oblige young fans eager for photo op
FORT KENT, Maine — When three young children standing outside the University of Maine at Fort Kent Sports Center on Saturday spotted four uniformed Fort Kent Police officers walking together, the youngsters eagerly asked their father if they could have a photo taken with the officers.

The children, Nigel McKellar, Julia McKellar and Joel McKellar of Nova Scotia were waiting along with their father, Brett McKellar, for their mother, Grace McKellar to exit the Sports Center following the university's 137th commencement exercises, during which Grace received her bachelor's degree in nursing.
Five-year-old Joel McKellar apparently plans to become a police officer when he grows up "cuz they have police cars."
One of the FKPD officers, Connor Lapierre, also graduated from UMFK on Saturday, having earning his bachelor's degree in rural public safety administration, magna cum laude.
The officers were happy to oblige.