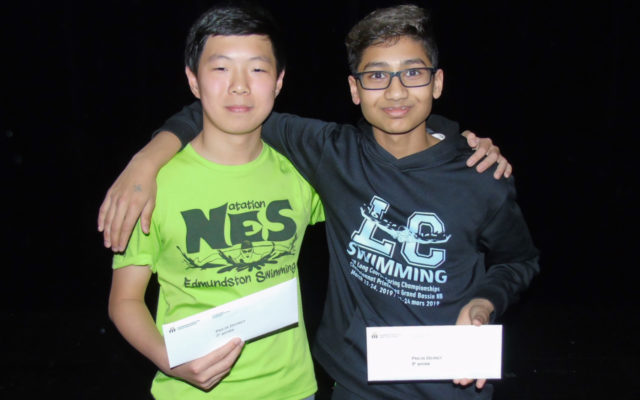 mathchamps
Two provincial champions proud of their feat: David Zhang, left, and Jami Vithal. The students have known one another from meeting occasionally during swimming competitions. They now share another passion: mathematics. (UMCE)
Provincial math contest yields two winners
EDMUNDSTON, New Brunswick — In a first in the 37-year history of the Provincial Mathematics Competition, two competitors were crowned provincial champions at the Edmundston campus of the Université de Moncton.
David Zhang, of the School of Our Lady of Edmundston, seventh grade, and Vithal Jami, of Roland-Pépin in Campbellton, ninth grade, completed at the forefront of the event, held Friday, May 10, and occurring simultaneously in the other province campuses: Moncton, Shippagan, Fredericton and Saint John.
Success is no stranger to Vithal Jami since he won first place in the Francophone Nord-Est School District last year, when he was in grade 8, and also in 2017. With his recent performance, he in effect won the triple crown of the school district in the last three presentations of the contest.
The only other provincial champion to have participated in the contest in Edmundston is Andy Ouellette, then in grade 8 at the Regional School of St. Basil. He passed the test in May 2014 with a score of 100 percent.
A total of 94 students from grades 7 to 9 in 17 Northwest schools measured their knowledge of mathematics at the Edmundston campus.
Here are the winners:
Award Winners of the Edmundston campus
Grade 7
1st position:   David Zhang, École Notre-Dame in Edmundston
2nd place: Emma Career, The Mosaic School North Balmoral
3rd place: Mathis Post, Le Galion School of Campbellton Appalaches
Grade 8
1st place: Anis Rahbaoui, École Notre-Dame in Edmundston
2nd place: Myriam Doucette, École Notre-Dame in Edmundston
3rd place: Krista Phillips, Academy of Our Lady Dalhousie
Grade 9
1st position: Vithal Jami, Roland Pepin versatile Campbellton
2nd place: Zack Gallant-Côté Cité des Jeunes A.-M.-Sormany Edmundston
3rd place: Audrey Clavette, Cité des Jeunes A.-M.-Sormany Edmundston
Winners Francophone Nord-Est School District (DSFNE)
Grade 7: Sophie Daigle, youth Place Bathurst
Grade 8: Krista Phillips, Academe Our Lady of Dalhousie
Grade 9: Vithal Jami Roland-Pépin in Campbellton versatile
Winners of the Northwest Francophone School District (DSFNO)
Grade 7: David Zhang, École Notre-Dame in Edmundston
Grade 8: Anis Rahbaoui, École Notre-Dame in Edmundston
Grade 9: Zack Gallant-Côté Cité des Jeunes A.-M.-Sormany Edmundston
provincial winners
Grade 7: David Zhang, École Notre-Dame in Edmundston
Grade 8: Wang Timac Harry Miller Middle School in Rothesay
Grade 9: Vithal Jami Roland-Pépin in Campbellton versatile