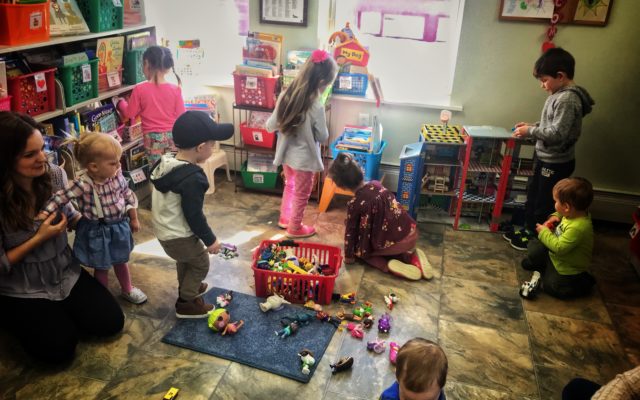 28401081_H24712611
Children enjoy playtime at the Long Lake Public Library in St. Agatha following a story hour and related craft project on April 17. (Morgan Mitchell | SJVT/FhF)
Children from around Valley enjoy story hour, song and dance at St. Agatha library
ST. AGATHA, Maine — Giggles and screams of excitement filled the story room at the Long Lake Public Library on April 17 as nearly a dozen children and their parents prepared to listen to a book reading during Children's Story and Activity Hour.
The children could not contain their excitement when they found out that librarian Jenna St-Onge would be reading "The Very Hungry Caterpillar." One youngster made it a point to tell the group over and over that he had the same book at home.
St-Onge said the children come from all over the St. John Valley to the library's monthly event. St. Onge selects a book, then finds music to pair with the story and teaches the children a song and dance. After they hear the story and sing and dance, the children gather in a line to form a train and go into the next room to work on a related craft project. This Wednesday, the children made a "Very Hungry Caterpillar" bookmark.
Once the project wraps up, parents take their charges into the children's section of the library to play with the toys and puppets, and pick out books to take home.
"I think it is very important to do this, because it involves the people in the community, and gets the people in the community together," St-Onge said. "It also brings kids to literacy, and that's very important."
St-Onge said the event is also a good opportunity for the children and their parents to socialize.
"Our parents have really responded well, and ask for the story hour," she said. "There are some parents who come every month, but it changes all the time. We get new people that come."
St-Onge said that at one point, they hosted 17 youngsters and their parents.
All of these events are possible through grants that St-Onge acquires. Most recently, she received a grant for $1,800 for the children's story hour including supplies for their crafts and activities.
Tiffany Goyette, mother of 2-year-old Kohen, an only child, said this was her first time at the event but that she plans to attend more in the future.
"I hope that we're able to make some more because it was great to get the kids to socialize and read some books and play with each other. It has been really fun," Goyette said. "I love that they get to correlate the books, a song, and a craft that all ties in and letting my son play with all different age groups."
Natalise Cyr, 3, who attended the event with her mother and brother, said she got to read the book about the caterpillar that ate "a junk of food."  Cyr also said her favorite part about the library, other than checking out books, is the toys in the children's section.
"I play in the puppet show," Cyr said, as she pointed to a little desk with a puppet stage on it. "I like it."