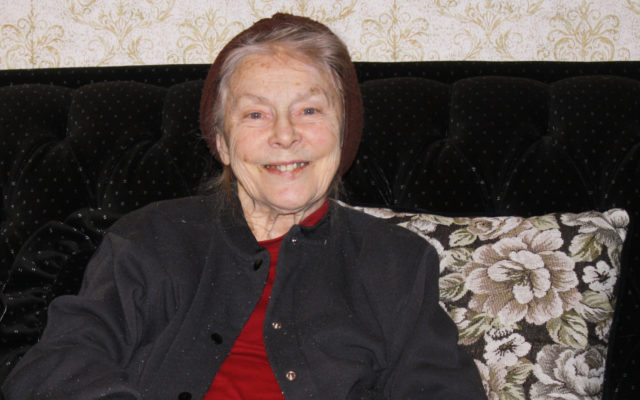 County Faces Mabel Desmond24647195
Mabel Desmond (Staff photo/Melissa Lizotte)
County Faces: Mabel Desmond of Mapleton
Throughout her 40-year teaching career in Aroostook County, Mabel Desmond of Mapleton practiced what she believed to be her most important motto: Always be kind.
"When I was in fourth grade I had a teacher named Avis Gregg. I admired her for one reason: she didn't shout. She always spoke in her ordinary voice no matter what," Desmond said. "I don't think there was any teacher I didn't like. I took their best qualities and used them for my own teaching."
Desmond recently celebrated her 90th birthday and used the occasion to reflect on her career and personal achievements. She remembers attending the former Belvedeere School, a two-room schoolhouse for elementary and middle school students, in Island Falls as a child.
During her school years Desmond enjoyed many subjects and was a star player on her high school girls basketball team. She knew from an early age that teaching would become her career path.
"I knew since I was 3 or 4 years old that I wanted to be a teacher. I had determination and I never changed my mind," Desmond said.
After high school Desmond attended the University of Maine at Presque Isle back when the college was Aroostook State Normal School and focused exclusively on educating future public school teachers. She earned her teaching certificate in 1949 and later returned to earn her bachelor's degree in 1964. She went on to earn her master's degree in elementary education from the University of Maine.
While a student at Aroostook State Normal School in the late 40s, Desmond's physical education instructor was Caroline Gentile, who taught at the college for over 50 years and for whom UMPI's Gentile Hall fitness center was named in 2006. Desmond's athletic skills impressed Gentile so much that she recruited the young student to help lead classes occasionally.
"Miss Gentile had high expectations, but she was a kind person," Desmond said. "If a student wasn't good at something she was willing to help them become better."
Desmond first taught at the former Bridgewater Grammar School before teaching at the former Gouldville Elementary School in Presque Isle as well as Ashland Community School and Mapleton Elementary School. She spent the majority of her career — over 20 years — teaching fifth grade at Zippel Elementary School in Presque Isle. She remained committed to her goal of never raising her voice at students, including one day when one of her music students disrupted the class.
"I asked him why he had spoken out of turn and he said, 'Because I don't like you,'" Desmond said.
Many of her colleagues, Desmond noted, would have made the boy stay inside during recess. But she believed that using a gentle, kind voice would have just as great an impact.
"If I had kept him inside I wouldn't have liked myself at all," Desmond said. "I couldn't stand the thought of saying anything mean."
Education remained a passion for Desmond even after she retired from teaching in the early 1990s. From 1994 to 2002 she served four two-year terms as a Democratic representative for District 146 in the Maine House of Representatives and was a member of the education and cultural affairs committees. While Angus King was serving as Maine's governor in the early 2000s, Desmond was an advocate for his proposal to provide laptops to all middle school students in Maine, which later became known as the Maine Learning Technology Initiative.
After her years as a representative, Maine Governor John Baldacci appointed Desmond to the Maine State Board of Education. She also has been a member of the Maine Education Association, the Aroostook Association of Retired Teachers and Delta Kappa Gamma, a professional society for women educators.
For 55 years Desmond has lived in Mapleton, where she and her late husband, Jerry Desmond, raised four children — Jerry Desmond, Jr., the late Ronnee Desmond Johnston, Jed Desmond and Jennifer Desmond York, who now teaches fifth grade at Zippel. Desmond takes pride in her family's achievements and feels fortunate to have built her life in a small, friendly community like Mapleton.
"I grew up in a pretty place [Island Falls] that had a mountain and a river running through it," Desmond said. "And now I still live in a pretty little town with a view of a mountain and a river running through it."