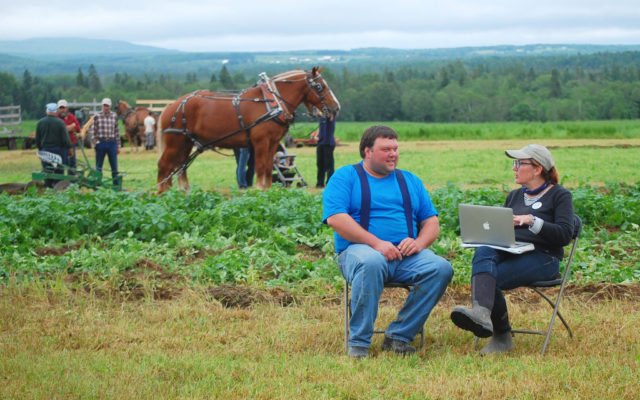 ALL-FarmTour-12-19-24542326
Maine Farmland Trust staff member Nina Young meets with farmer Tommy Drew of Woodland in the field. (Courtesy of Laura Chase)
Farmland Trust wants to hear from farmers across Maine
MAINE — This June, Maine Farmland Trust will embark on a road trip and listening tour to visit farms from York County to The County.
The statewide organization, which is celebrating its 20th anniversary this year, will incorporate the conversations and feedback from the listening tour into its strategic planning process.
"Our staff and board are working to set a course for the coming years," said Ellen Sabina, outreach director for MFT. "The listening tour will help us to dig into what is happening on the ground in Maine's farming community and inform our work in the future."
The route for the tour is yet to be set, and will be dictated by the farms that invite MFT to have a conversation, but Sabina said, "we want to focus primarily on rural parts of the state, visiting and talking to farmers and friends in their homes, at kitchen tables and in dooryards."
MFT invites any and all farmers to be part of the listening tour. If you are interested in hosting a conversation or being involved in some way, please contact Sabina: ellen@mainefarmlandtrust.org or 207-338-6575.
Maine Farmland Trust is a member-powered statewide nonprofit that works to protect farmland, support farmers, and advance the future for farming. Since its founding in 1999, MFT has helped to protect over 60,000 acres of farmland, and has supported over 830 farm families with critical services like business planning. More at mainefarmlandtrust.org.