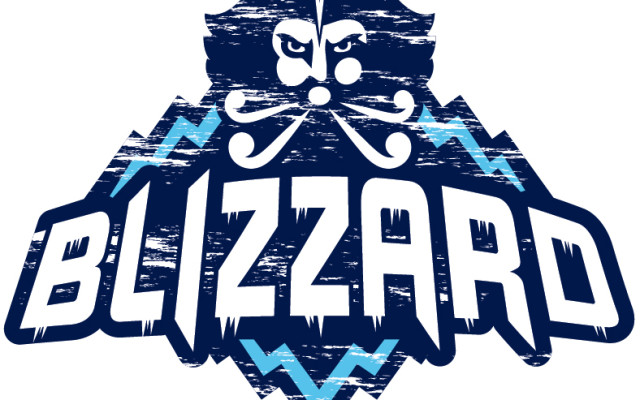 LOGO_BLIZZARD_FINAL_19718236
Lightbody and Grandmaison lead Blizzard to a 7-3 win
GRAND FALLS, New Brunswick — Has the Edmundston Blizzard just found a new star in  Ben Lightbody?
In his second game in the blue and white jersey, lightbody, 17, found the back of the net twice, ad did Maxime Grandmaison, and the Blizzard recorded a 7-3 win on March 8 against the Grand Falls Rapids who concluded their first regular season at home. A total of 1,356 spectators witnessed the game at the E. & P. Senechal Center.
Lightbody, who ended Thursday his NB/PEI Midget Hockey League playoffs with the Fredericton Caps, got the game winning goal at 11:23 of the middle frame. His second goal came late in the third period giving the Blizzard a 7-3 lead.
Lightbody, whose rights belong to the Blizzard, played his first game with Edmundston on February 24 in St. Stephen. He should stay with the team in the playoffs.
First star of the evening, Grandmaison played a strong game and had a physicial game once again. Interestingly, Grandmaison is shining when he plays on opponent's ice. Ten of his 14 goals have been scored on the road. Logan Johnston is the only other Blizzard player to have scored 10 goals outside of the Jean-Daigle Centre this season.
Johnston (1g, 2a), Aaron Brown (1g, 1a) and Jean-Maxime Bond (1g, 1a) scored the other Blizzard's goals. Whith his three points, Johnston reached the 70 points mark (27g, 43a), a record in the young Blizzard history. Johnston led blizzard in the points column last season with 64.
Drew Cornick, Brady Patterson and Jean-Simon Bélanger replied for the Rapids.
Ewan MacDonald had the win in front of the Blizzard cage. He faced 22 shots compared to 32 for his counterpart, Andrew Rose.
The spirits warmed up on a few occasions and some Blizzard players had to leave the ring a little bumped up.
The Blizzard won seven of the eight games in the Battle of the Northwest.