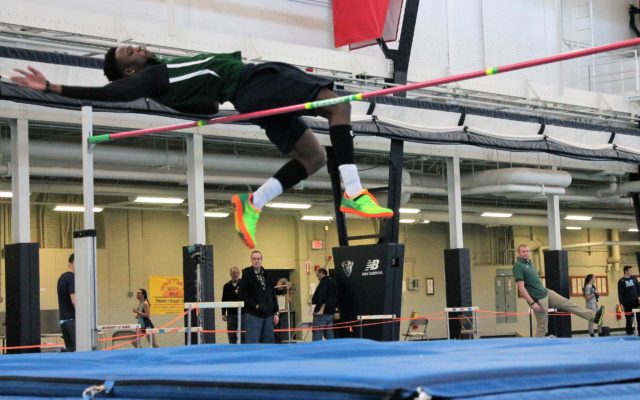 Ajay High Jump 2
University of Maine at Fort Kent long jumper Ajay Thompson clears the bar to win the event during a Feb. 12 meet in Orono. (University of Maine at Fort Kent)
UMFK track and field surprises crowd during meet
FORT KENT, Maine — The University of Maine at Fort Kent Track & Field Program had their first taste of NCAA Division I competition at the UMaine Orono Invitational on Feb. 12.
The Bengals had two event winners with Mandy Graham of Presque Isle winning her event for the second meet in a row, this time in the mile in a time of 5:32. Ajay Thompson of Black River St. Elizabeth, Jamaica, won the high jump handily with a bar clearance of 2.00 meters (6 feet 6.5 inches).
Other meet highlights included Rodane Hibbert of Southfield, Jamaica, taking 4th in the 400-meter; Joe Enerva of Ohio getting a 2-foot personal record in the shot put; and Yannick Kasongo of Houston, Texas, getting a personal record of over 1 foot in the long jump.
Complete meet results can be found at https://www.tfrrs.org/results/59388/UMaine_Sunday_Invitational/.