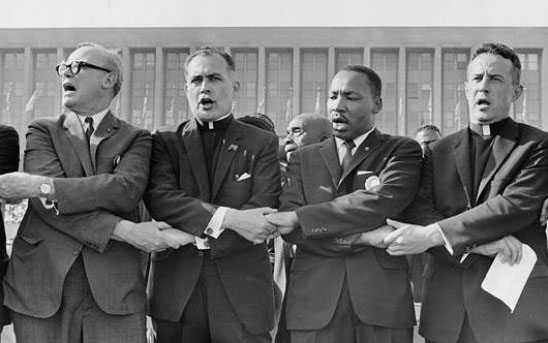 CME-MLKMESSAGE-0118-19_24302385
Dr. Martin Luther King Jr., third from left, joins hands with clergy. (Courtesy of Diocese of Portland)
A Message for Martin Luther King Jr. Day from Bishop Deeley
PORTLAND, Maine — Bishop Robert P. Deeley of the Roman Catholic Diocese of Portland issued a special statement on Friday, Jan. 18, in honor of the Jan. 21 commemoration of Dr. Martin Luther King Jr. Day.
"On Monday, we will pause to honor the memory of Reverend Dr. Martin Luther King, Jr., who would have celebrated his 90th birthday this week," the bishop said.
"In word and in action, he taught us about the need for equality and inspired millions with his faith-driven compassion, leaving a legacy that continues to shine light into our world over 50 years after his death. Our commemoration of his birthday sadly reminds us that this is not merely about remembering a past struggle but confronting the reality that the quest for racial harmony persists in America.
"Dr. King said that 'Darkness cannot drive out darkness; only light can do that. Hate cannot drive out hate; only love can do that.' As Christians, Jesus is our light. When we live according to what Jesus taught us in both word and deed, we show that the darkness of prejudice is not a way of life. We live in the hope and promise that Jesus gives humanity and strive to bring others to His message of peace.
"As we reflect on the life and work of Dr. King, we would honor him by asking ourselves if we are doing all that we can to build a culture of love and respect for all persons," the bishop concluded. "It is this to which he dedicated his life, and to which the Gospel calls each of us."