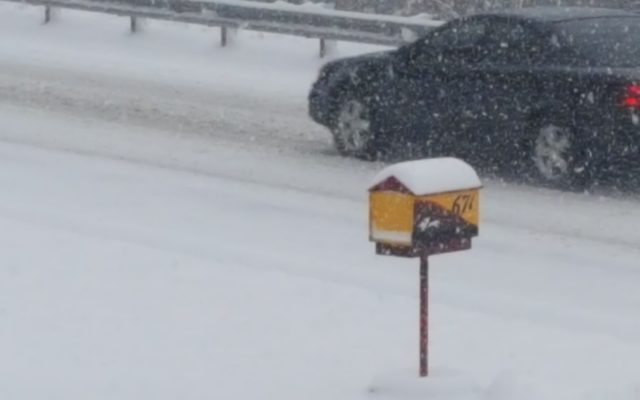 SNOWAPRIL4_23046466
A car travels on snowy Route 1 in Fort Kent. (Andrew Birden)
Weekend storm could dump nearly 2 feet of snow on parts of Maine
CARIBOU, Maine — Anyone who has Martin Luther King Day off on Monday will likely spend it clearing away between 11 and 22 inches of snow from an expected nor'easter, according to the National Weather Service in Caribou.

Mal Walker, meteorologist at the NWS in Caribou, said Thursday that forecasters are still watching the radar, but most of the state will be under a large swath of a major snowstorm late Saturday night and throughout Sunday.
"This is going to be a very intense storm," he said. "It is being caused by a low pressure system moving out of the Ohio valley and up along the coast."
He said snow totals will depend on the storm track, but a storm watch the NWS posted Thursday afternoon for all of Aroostook County alerts residents to the possibility of "total snow accumulations of 11 to 22 inches possible" by the time the storm ends on Monday.
Greater Bangor also can expect up to 20 inches this weekend,, nearly as much snow as has fallen so far this season. Walker said 32.6 inches of snow have fallen over Bangor through Thursday, compared with Caribou where 78 inches have fallen.
That snow will be accompanied by bitterly cold temperatures in the single digits in the north to the low teens south toward Bangor, according to the weather service.
A weather service advisory posted Thursday warns of wind chills as "low as 30 below zero expected" from about 1 a.m. to 2 p.m. Saturday for Aroostook and northern Penobscot and Piscataquis counties.
Also, "we have to stress that we would not want anyone on the roads," Walker said. "Travel will be extremely dangerous, with heavy snow, blowing and drifting snow, and whiteouts in some areas. People should stay off the roads, because there will be travel problems."
The meteorologist said that Aroostook County could still see some impact from the storm on Monday and even after the snow tapers off, snow will continue to blow and drift on Monday as high winds whip across the state.