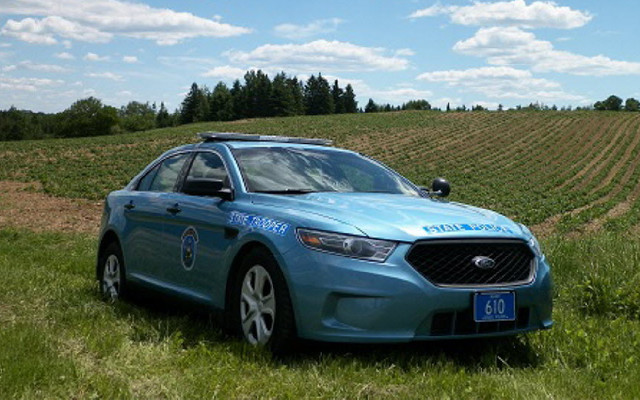 MSP_F
Maine State Police - Troop F - Aroostook County.
Maine State Police Troop F Report, Dec. 24-30, 2018
Editor's Note: An arrest or summons does not constitute a finding of guilt. An individual charged with a crime is presumed innocent unless and until proven guilty at criminal proceedings.
HOULTON, Maine — The Maine State Police Troop F barracks in Houlton responded to 86 calls for service during the period of Dec. 24-30, 2018, including the following.
Monday, Dec. 24
HODGDON: Trooper Bell observed a vehicle being operated by a male, with whom he was familiar, drive into the parking lot of a convenience store in Hodgdon. Bell was aware that this male was under suspension. He watched the male leave the store and drive off, after which he pulled him over and summonsed him for operating after suspension.
Wednesday, Dec. 26
HODGDON: Tr. Kilcollins responded to a residence in Hodgdon for a reported burglary. The homeowner and her daughter arrived home to find the front door ajar. Kilcollins arrived and cleared the residence. Nothing was taken from the home other than the homeowner stating that the toilet lid was left up and it wasn't when she left. Kilcollins could not find any forced entry to the residence and learned that the front door would not latch completely.
FRENCHVILLE: Tr. Desrosier was on routine patrol in the early morning hours and observed a vehicle traveling at a high rate of speed. He stopped the vehicle in Frenchville for going 30 miles per hour over the posted limit. Desrosier summoned the man for criminal speed.
JOHN PLT.: Tr. Curtin pulled over a vehicle in St. John after recognizing a female driver who he was aware did not have a license. The woman was also on bail and her male passenger was on probation. The woman was arrested for operating after suspension and violating condition of release. The vehicle was impounded and Curtin is in the process of applying for a search warrant based on information he learned during the investigation.
Thursday, Dec. 27
CASWELL: Tr. Levesque received a call from the Houlton Police Department reporting that there was a man in Caswell who had an active warrant for his arrest from one of their cases. Tr. Levesque responded to the residence. placed the man under arrest and transported him to the Aroostook County Jail without incident.
Friday, Dec. 28
MAPLETON: Tr. Kilcollins took a complaint of a missing or stolen handgun in Mapleton. He contacted the owner, who stated that he could not remember where he put the gun and was not confident that it was stolen or just misplaced. Kilcollins put a file out for the missing gun.
Saturday, Dec. 29
PRESQUE ISLE: Between 11:30 a.m. and 2:15 p.m., Tr Pescitelli stopped four vehicles and found the operators to be operating after suspension/operating after revocation. At 1130 a.m., Pescitelli stopped a 17-year-old female and summonsed her for OAS, then at 1:40 p.m. he stopped a 29-year-old female and summonsed her for OAS. At 2:15 p.m., Pescitelli ran a registration plate, which showed the 26-year-old female was under suspension and he stopped and summonsed her. When clearing that stop, Tr Pescitelli saw a vehicle he was familiar with pass by him, and he knew the operator was OAR. Pescitelli followed him into a parking lot and arrested the 25-year-old male for OAR and transported him to the Presque Isle Police Department, where the male made bail.
Sunday, Dec. 30
WESTFIELD: Tr Pescitelli was dispatched to a motor vehicle crash in Westfield. Upon arrival, he found that the 20-year-old female operator was OAS and on bail for drug charges. Tr Pescitelli searched the female's purse and found a quantity of meth and pills. Tr Pescitelli arrested the female and transported her to ACJ, charging her with OAS, VCR and possession of schedule W and Y drugs.