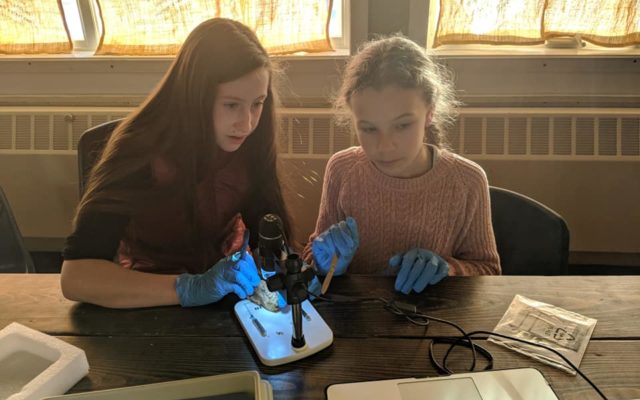 SJ-VRMSDISSECTION1-01-19_24209338
Mira Kelly and Rebekah Robichaud use a computer microscope to aid in the dissection of a sheep's brain at Valley Rivers Middle School on Dec.11, 2018. (Courtesy of VRMS)
Valley Rivers Middle School students put brains under the microscope
Remember the last thing you dissected in school? Students at Valley Rivers Middle School might have a cooler answer.
On Tuesday, Dec. 11, 41 eighth-grade students went to school ready to learn all they could about the brain — by dissecting one. A sheep's brain, that is.
Kara Beal's eighth-grade class got to experience the brain first-hand by dissecting sheep brains.
"The students' questions and what they want to know really drives a lot of my teaching and the teaching at this school," Beal said.
During a unit called "Phineas Gage and The Brain," Beal's eighth-grade students were studying how we began understanding the brain.
In the unit, students studied historical developments in neuroscience, the different parts of the brain and how important life skills relate to brain function. Beal said students were so engaged with the curriculum that she decided to try and find a way to expand their learning.
With a donation from a science program from the University of Fort Kent, Beal was given enough sheep brains for students to work in pairs to investigate, label and dissect sheep brains.
"Since I want to be a paramedic," stated Ethan Raymond, "I find this stuff amazing and just love it!"
"These brains [sheep brains]  were the most readily available and are comparable to a human brain," Beal stated. "It's quite a bit smaller but it's set up the same."
"Before jumping into the dissection, students had labeled the basic parts of a human brain and looked at further information about how injuries or disorders affect how the brain works. Students additionally looked at the history of brain science and how far we have come from the mid-1800's when Phineas Gage's accident occurred till today.
When it finally came to actually seeing and cutting into the brains, there were lots of different reactions. While some were shocked and worried about the smell, others realized it was not as gross at they thought and began pointing out the different parts of the brain they could identify.
"They were just really engaged with it," Beal remarked. "It felt like squishing a mushroom" commented Veronica L'Italien. "It was so cool to cut through and see all of the parts, like with the brainstem and cerebellum" stated Sadie Pelletier.
Because of the great response and interest by other students, Beal plans to continue this unit in future classes.
"I think it's just about giving kids more opportunities to learn hands on and delve deeper into their curiosity and knowledge in whatever we're able to do," she said. "I see more sheep brains are in my future."
"I think this is one of the best projects I have ever done. Being able to have hands-on experience with a brain helped me understand the parts of the brain" stated Richard Leclair.

(Courtesy of Courtesy of VRMS)