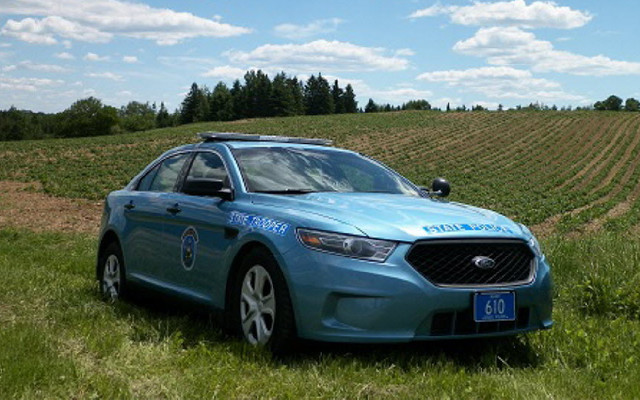 MSP_F
Maine State Police - Troop F - Aroostook County.
Maine State Police Troop F Report, Dec. 17-23, 2018
Editor's Note: An arrest or summons does not constitute a finding of guilt. An individual charged with a crime is presumed innocent unless and until proven guilty at criminal proceedings.
HOULTON, Maine — The Maine State Police Troop F barracks in Houlton responded to 114 calls for service during the period of Dec. 17-23, 2018, including the following.
Monday, Dec. 17
LITTLETON: Trooper Casavant opened an assault investigation when a young male subject walked into the barracks to report he had been assaulted. The man had been at a home in Littleton when an altercation had occurred between the two young men. During the altercation, one man received a cut to his hand that required medical treatment. The investigation is ongoing.
Tuesday, Dec. 18
HODGDON: Tr Bell was patrolling in Hodgdon and met a vehicle being driven by a male he knew. Bell had summonsed this male several months prior for operating after suspension and had also summonsed another male for driving this same vehicle with illegally attached plates. He had dispatch run the driver and found that he was suspended and the plates were illegally attached. Bell stopped the male and summonsed him for OAS and Illegal attachment.
PRESQUE ISLE: Tr. Pescitelli was parked in Presque Isle monitoring traffic, and ran the registration of a vehicle that passed him. He discovered that the female owner was under suspension and the operator matched her description. He stopped the vehicle and summonsed the female for OAS and waited for a licensed driver to come drive the car.
Wednesday, Dec. 19
WESTFIELD: Tr. Levesque learned that a man had an active warrant in Westfield. He contacted the man, who knew that he had a warrant and agreed to meet with Levesque. Levesque arrested the man without incident and transported him to the Caribou Police Department, where he was bailed.
HOULTON: Tr. Duff was on routine patrol and made a traffic stop on Rt. 1 in Houlton. He learned that the operator's right to operate was under suspension and summonsed the man for OAS.
Thursday, Dec. 20
CASTLE HILL: Cpl. Michaud went to a Castle Hill residence after Emera officials called to report that they had shut off electrical service at a home, but someone had destroyed the lock on the meter and reconnected the power. The customer was not home, and Cpl. Michaud stood by while the service was disconnected again. The female account owner is being sought by Cpl. Michaud.
Friday, Dec. 21
AGATHA: Tr. Desrosier responded to a single-vehicle rollover in St. Agatha. The female operator was transported to Northern Maine Medical Center with non-life-threatening injuries. The roadway was shut down for a brief time so the vehicle could be removed.
NEW CANADA: Tr. Desrosier took a theft complaint in the town of New Canada. The victim was reporting that while he was incarcerated someone stole the plates off his vehicle that was parked in a friend's driveway. The man also claimed to have had several other items taken from inside of his car. Desrosier is still investigating the complaint.
CARY PLT.: Tr. Duff and Lt. Harris responded to a single-vehicle rollover with entrapment in Cary Plt. A passenger in the vehicle had to be extricated from the vehicle. Neither the driver or passenger were seriously injured. The operator was transported to Houlton Regional Hospital by ambulance.
LITTLETON: Tr. Duff responded to a single-vehicle crash in Littleton. He learned that a Littleton fire truck was making a left turn into a garage when the truck suddenly veered to the right, leaving the roadway and breaking a utility pole. One lane was closed for approximately an hour while crews removed the fire truck and replaced the pole. No one was injured in the crash.
Sunday, Dec. 23
FORT KENT: Cpl. Hafford assisted the Fort Kent Police Department at a burglary of a restaurant. He assisted with scene photos, evidence collection and packaging.