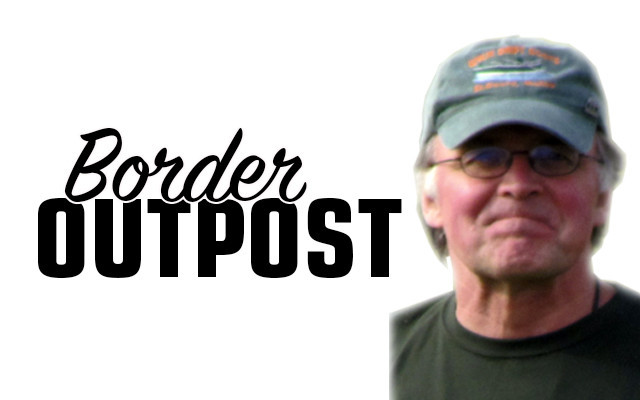 BorderOutpost-Wylie-640×400
Border Outpost: Proverbs
There's a proverb, probably Chinese, probably by Sun Tzu, about a peasant standing for a long time on the mountaintop before a roast duck flies into his mouth. I suggest something similar in Cat. Stare at the bowl long enough and food will eventually appear. You can learn a lot from a cat.
I don't particularly like writing about politics, especially now when somebody else says things better than I can and the news media is crammed with commentary. Saying something original about Donald Trump is an exercise in futility. Someone has already said it better before and without the need for colorful expletives.
The above mentioned proverb is merely the idea that something you want desperately will eventually come along if you're patient enough. Sun Tzu was commenting about war and there's an even more poignant proverb of his about a river and one's enemies. I like that one, but it doesn't bear repeating.
I just finished making breakfast. It can be an arduous affair with the 'affliction'. All sorts of thoughts going through the brain accompanied by twitches of pain, leaden sluggishness of limb, and a characteristic mental disorder. Thoughts are jumbled, random, until they coalesce into something sensible. Patience is called for, like waiting out the eventual (and inevitable) departure of the current president.
Being of that darker cast of mind, I am not deluding myself by thinking this 'consummation, devoutly to be wished' will happen quickly and easily. One commentator opined that 'things take a long time to happen before things suddenly start happening'. I forget who said that, but it makes perfect sense.
I have to admit I'm taking a lot of my cues from the cat (whose name, appropriately enough is Freya, after the Norse goddess of love and war). Taking long languid naps is sensibly precautionary in this condition, though nibbling crunchies off the floor might prove difficult. Standing upright is hard enough these days.
The cat has a charming habit of going to the windows on the kitchen doors and lifting itself with its front paws to observe the outdoors. If she spies someone walking by on the street, she emits s low growl. It's an almost comical 'ggrrr'. Now I imitate her when Trump appears on television or the radio. You can learn a lot from a cat.
I said this twice. I think it's another proverb.
Dave Wylie's life and work experience runs the gamut from newspaper editor to carpenter to grant writer to boat builder with lots of other work wedged in-between. Wylie currently is president of a management company that oversees an elderly housing complex and president of the local historical society. He resides in Madawaska.