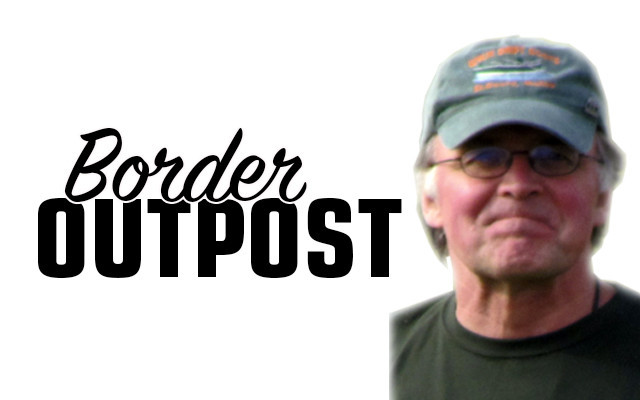 BorderOutpost-Wylie-640×400
Border Outpost: College bound
The shop is cold in spite of a surging fire in the woodstove. The stove is too small for the building's size; a miscalculation on my part. The chill forces me to sit near the source of heat and put off any thought of productive work. I sit in the wooden swivel chair and contemplate the next move.
This is titled "College bound" for its double meaning; heading off to college and being tied to the idea of college as the correct trajectory. Of course, neither is possible at my age or remotely interesting if matters had been different. I'm grateful for having gone to college when I did, but now realize its utility was wholly futile.
I've always considered myself working class. I would even use the epithet 'proletarian' with its socialistic sound and import. As well as an economic identifier, it also denotes an attitude, and an approach to how things work for oneself and the world out there beyond the walls of the shop.
I was thinking I'd rather have had an industrial arts education. A large portion of my working life, past tense, was devoted to "working with one's hands"; that is, working as a carpenter, woodworker, flooring installer, mill worker and such. I'd taken a smattering of industrial arts courses like rebuilding a Diamond straight six engine in high school and earning the compliment from the instructor as "the best natural mechanic" he had ever taught at the time. Of course, mechanics was too easy and I left off any thought of continuing on that trajectory.
Woodworking was different. I took a course in it and cobbled together a rather bulky looking mahogany chest, earning me the recommendation by the instructor that I not pursue woodworking as a career. I had no aptitude for it, he said and I completely agree with him. I have no aptitude when it comes to building wooden boxes.
At the ripe old age of 40-something, my now late brother implored me to give him a hand at building a boat. "A day's work is all I need," he said over the phone and I reluctantly complied. I insist that I came to boat building kicking and screaming, as it was another one of his crackpot ideas about fishing and "Shall we build a boat?" No, I thought, we can buy a boat; a big inflatable rubber thing that would serve the same purpose.
We labored that day setting up the boat's framing and fitting the plywood sides to what became the boat's hull. Time passed quickly. The boat took shape. I discovered the meaning of life; mine, at any rate.
If I had my druthers, I'd have been a boat builder. There is something inexpressibly magical about the shape and sweep and all the little bitty bits and pieces as well as the massive planks and baulks that go into making a boat. I think of boats as the one last human thing we can build and go places in this world. I can't imagine what it's like building an airplane. Most of it is bought off the shelf, manufactured by someone else in a factory; noisy, loud and totally impersonal. Boats are silent testaments to wood taking the shape of liquid water.
I was more or less compelled to take the school courses that led me to college and beyond. If I had discovered boat building at a younger age, I wouldn't have bothered going to college.
I built a massive post and beam shop in which my brother and I were supposed to build boats. The shop was an enticement, a lure to draw him away from his job and into this prospect of making boats happen. Tragically, he died before that became possible.
I still have boats, the shop, books to keep me company, the writing, but I've always had the books and the writing and college made no difference on those counts. A college diploma was completely irrelevant to the "career" I embarked on and made no impression whatsoever. Being tracked into college prep was a mixed bag, but making no impact on the directions I took in life. I wish someone had shown me how to build a boat.
The shop is always cold this time of year and spring is months away. I have the materials on hand for two boats. The will is there, even if the body is considerably diminished at this late age.
The fire in the stove barely warms. I wonder at times how I even got this far.
Dave Wylie's life and work experience runs the gamut from newspaper editor to carpenter to grant writer to boat builder with lots of other work wedged in-between. Wylie currently is president of a management company that oversees an elderly housing complex and president of the local historical society. He resides in Madawaska.