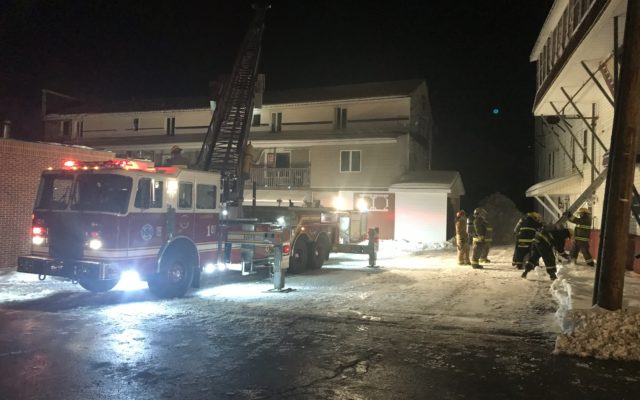 17461803_H24109674
Fire fighters from St. Agatha, Frenchville, Madawaska, and Grand Isle train together at town acquired properties in Madawaska Thursday night. (Morgan Mitchell | SJVT/FhF)
'Fire' on 11th Avenue in Madawaska was part of area training exercise
MADAWASKA, Maine — Residents of Madawaska may have been alarmed by the fire trucks and an ambulance with their lights blazing on Thursday evening on 11th Avenue, but it was firefighters from four area communities training.

Madawaska Fire Department Chief Jim Soucy said this type of training between the communities of Grand Isle, Frenchville, Madawaska, and St. Agatha does not happen often, and that it is rare to have a building that they get to use.
"It's great to have a building that we can train in," he said, referring to the town acquired apartment properties on 11th Avenue.
Matt Russell, the training officer for the Madawaska Fire Department, said firefighters were happy they were able to use the "town assets" to train.
The purpose of the training was to bring together the firefighters from area communities who often rely on mutual aid from one another.
The participants didn't actually set fire to any parts of the buildings, but trained together on how to forcibly enter structures through doors, windows, and walls and attack different situations while in a "low stress environment."
"[The departments] have come to train with us to be familiar with our tools, our apparatuses, and our personnel," Russell said Thursday. "That way, in case there is a large scale emergency, we can work together and keep everybody safe."
Russell added that the need for mutual aid has risen due to the lack of volunteer firefighters.
"Our roster is extremely low in active members and we are facing many, many retirements in the near future," he said.
Anyone interested in becoming a volunteer firefighter is urged to call 207-728-7716 or contact an active member of the local fire department.