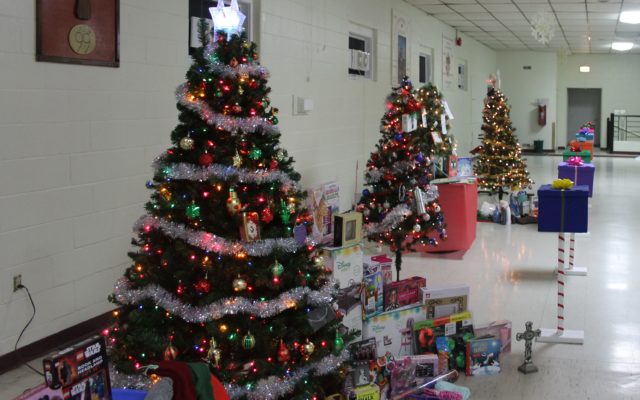 TREES_24105714
The Daughters of Isabella are sponsoring their first Christmas Tree Festival at the Knights of Columbus Hall, Nov. 30 to Dec. 2. On Thursday evening, some trees are already up, decorated, and sporting gifts from area businesses. Supporters can buy raffle tickets for a chance at winning their favorite tree and all the decorations and items that go with it. (Morgan Mitchell)
Daughters of Isabella to raffle Christmas Trees for fundraiser
MADAWASKA, Maine — Area residents are invited to attend the first Christmas Tree Festival and raffle from Nov. 30 to Dec. 2. The event is sponsored by the local chapter of the Daughters of Isabella with all proceeds going toward various charities.

So far, more than a dozen businesses have signed up to set up and fully decorate their trees, with folks having an opportunity to buy raffle tickets on their favorite ones. Some trees include gift cards, prizes or even baked goodies. Winners get to take home whatever tree they win with everything on it.
The trees are available to view at the Knights of Columbus Hall at 172 Fox St. from Nov. 30 through Dec. 2 where raffle tickets are available at $5 for ten.
The Daughters of Isabella is a non-profit Catholic group of women, who "do good things throughout the community," according to Deadra Schlicher, the local chapter's chairperson. The women will use proceeds from the fundraiser to make care packages for cancer patients, Christmas stockings for nursing home residents, and funding scholarships for high school seniors.
By Thursday evening, several businesses, including, the St. John Valley Times, Mom's Fudge, Dolly's, Meals on Wheels, U.S. Cellular and Vinny's, had put up and adorned their trees at the KC hall.
Artificial trees glistened with glittery ornaments and twinkling lights. Some include assorted presents ranging from children's toys under the Daughters of Isabella's tree to a KitchenAid mixer under the Meals on Wheels tree. Baked goods adorn the Mom's Fudge tree and the entry from U.S. Cellular's Northern Airwaves includes a tablet. Still others are accented with gift certificates to be used at the donating business, such as the Grand Isle General Store.
"The variety is what makes the event so exciting in that each tree is unique," Schlicher said.
"People are responding well and wanting to participate, because it's something different," she said. "It is also for a great cause."
The center of the hall also will be the setting of an extravagant bake sale. Organizers are also putting on a separate half and half raffle with half of the money raised from ticket sales going to the winner. Patrons of that raffle can buy 7 chances for $5.
Organizers are hoping this will become an annual event.
"We're so excited to be hosting this first annual event," Schlicher said Thursday. "We can't wait to see the joy and Christmas spirit light up the room."
The hall will be open to the public Friday from 4-8, Saturday 9-8, and Sunday 9-1.
For more information, visit the group's Facebook page.