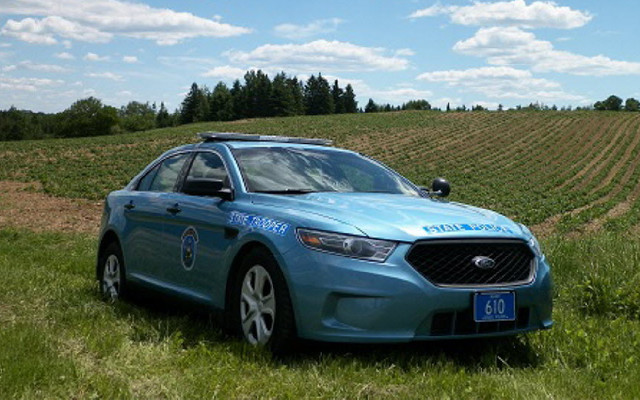 MSP_F
Maine State Police - Troop F - Aroostook County.
Maine State Police Troop F Report, Nov. 12-18, 2018
Editor's Note: An arrest or summons does not constitute a finding of guilt. An individual charged with a crime is presumed innocent unless and until proven guilty at criminal proceedings.
HOULTON, Maine — The Maine State Police Troop F barracks in Houlton responded to 121 calls for service during the period of Nov. 12-18, 2018, including the following.
Monday, Nov. 12
MONTICELLO: Trooper Pescitelli stopped a vehicle for speeding in Monticello, going 81 in a 55-mph zone while passing another vehicle. While talking to him, Tr. Pescitelli could smell marijuana and he said he was coming back from a medicinal marijuana place in Caribou. Tr Pescitelli administered a standardized field sobriety test on him and developed probable cause to arrest the male after failing the testing.
MAPLETON: Cpl. Michaud responded to a Mapleton address when a woman reported that her deceased father's home had been broken into. The home had been vacant for some time and thieves appeared to have been periodically breaking into the home and stealing items ranging from the copper piping to pieces of furniture. The investigation is ongoing.
Thursday, Nov. 15
ASHLAND: Ashland Police Department received a traffic complaint on a woman who was driving all over the road. The officer working located the vehicle and conducted a traffic stop. He determined the woman was impaired and arrested her. Tr. Desrosier was contacted for a drug recognition evaluation due to the officer suspecting the woman was impaired with narcotics. Tr. Desrosier responded to Ashland PD and conducted a DRE examination, which showed the woman was impaired by narcotic analgesics. Ashland PD charged the woman with operating under the influence of drugs.
Friday, Nov. 16
LINNEUS: Cpl. Quint investigated an unauthorized use of property in Linneus. A woman, who had a suspended driver's license, took a vehicle from her live-in boyfriend's residence without permission from the owner. The woman got the vehicle stuck at another address in Hodgdon. Cpl. Quint arrested the woman and transported her to the Aroostook County Jail in Houlton.
Thursday, Nov. 17
NEW LIMERICK: Troopers Casavant and Sylvia responded to the report of a crash off County Road in New Limerick. The vehicle was found with nobody in it, however, once the investigation unfolded, a passenger was found near a local store and the operator was also located a short distance from the crash scene. The operator was arrested and charged with operating under the influence of alcohol.