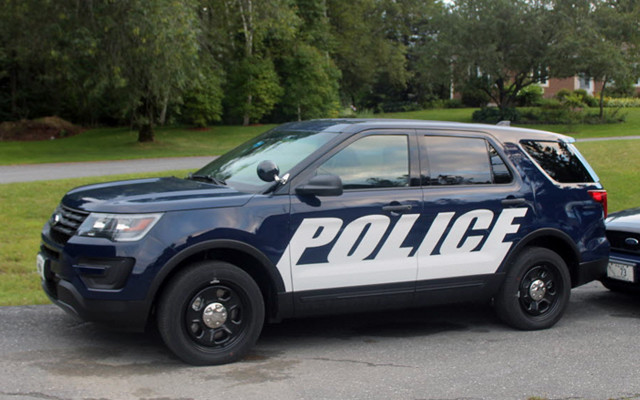 FKPD
Police cruiser for the Fort Kent Police Department. (Jessica Potila | SJVT/FhF)
Police arrest Fort Kent man, charge him with leaving scene of accident
FORT KENT, Maine — Police arrested a Fort Kent man on Monday and charged him with leaving the scene of an accident involving property damage.
Officers accuse Samuel Robinson, 37, of striking a utility pole and driving away.
A passerby called the Fort Kent Police Department at 4:45 a.m. on Saturday, Nov. 24, to report the damaged utility pole on Route 161 near the St. John town line. Officer Curtis Picard responded and discovered evidence of a motor vehicle accident, although the vehicle involved was no longer at the scene.
Officers determined through their investigation, however, that a 2018 Ford pickup was involved in the crash and they allege that Robinson was operating it at the time.
On the morning of Monday, Nov. 26, Officer Michael DeLena located Robinson, who also had two active warrants out against him from Cumberland County for alleged violation of probation on prior charges. DeLena arrested Robinson and charged him with leaving the scene of a property damage accident. Police later transported Robinson to the Aroostook County Jail.
The Ford pickup, which is owned by Robinson's employer, Nicholas Deprey of Madawaska, received extensive front end damage and both front airbags deployed during the accident, according to Police Chief Tom Pelletier.
Emera Maine crews repaired the utility pole, which received significant damage. The accident did not interrupt power service to the area.
This 2018 Ford truck received damage to the front end when it hit a utility pole on Route 161 in Fort Kent on Saturday, Nov. 24. Police arrested Samuel Robinson, 37, on Monday and charged him with leaving the scene of a property damage accident. (FKPD)