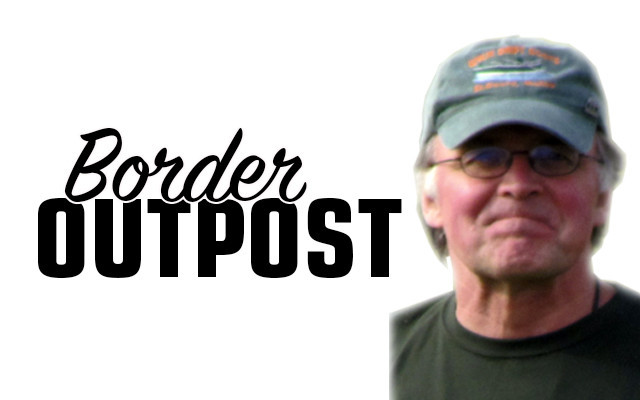 BorderOutpost-Wylie-640×400
Border Outpost: A history lesson
John Mack Faragher, the author of "A Great and Noble Scheme," gave a presentation recently at UMFK on the deportation of the Acadians. I read the book years ago and am familiar with its contents, but it was good to hear two particular tenets of his work emphasized again.
Ethnic cleansing, while a fairly contemporary term, is still a fact even if it happened 263 years ago. A fact is fact, whether you agree with it or not. Faragher made comparisons with more contemporary versions of that atrocity, like the removal of the Cherokees during Andrew Jackson's administration and the uprooting of Bosnian Muslims in the 1990s by their Serbian neighbors. These comparisons are correct in their assertion and I don't take any issue with that. However, the elephant in the room seemed to settle uneasily with me. Or should I say elephants plural, such as the Jewish Holocaust in World War II, the Ukrainian Holodomor and Armenian genocide in the last century. I think it fair to make comparisons, even if the scales were vastly different.
The second tenet of his remarks had a slightly more nuanced perspective. The British (or English, for those who prefer a more specific identification) were involved in carrying out the forced removal of Acadians from what is now Nova Scotia, but the heavy lifting was performed by New Englanders — Yankees, if you will. I got the impression years ago that Longfellow's "Evangeline" was a vehicle that deflected some of the blame for le grand derangement away from the Yankees and placing it squarely on the shoulders of the British. I never trusted the mawkish sentimentality of Longfellow's work, and Faragher's remarks seemed to reinforce the idea that it was also a piece of propaganda.  This doesn't detract from the fact that the British were involved in the affair, but the New England component vanished in the telling and the later depictions. British redcoats in full military regalia in the illustrations made for Longfellow's book only directs attention away from Yankee presence in the business.
Being of half Scottish ancestry, I should point out that the "British" were less than gentle in their ministrations to Scots Highlanders 10 years before the removal of the Acadians. The Battle of Culloden and destruction of the Highland clan system and way of life a decade earlier could be viewed as a sort of practice run for events taking place at the onset of the French and Indian War.
Wars are nasty propositions, and the assignment of culpability is often a matter of parsing this from that. Nobody gets off without some muck spattered on their clothing.
It ends up that Scots Highlanders, some of them veterans of Culloden, scaled the heights to reach the Plains of Abraham while fighting on the side of their former adversaries at Quebec in 1759. True, there were motivating factors involved, such as being in 'manly Scots battledress' again and the sneaky British implication that many Scots soldiers wouldn't be returning to Scotland again. As in "You can always con a Scot into wearing a kilt." Personally, I wouldn't be caught dead in one, though many were.
I appreciated Faragher's take on the Acadian deportation, even if time and complexities of the issue didn't allow for further exploration. His book serves that purpose admirably. It's a riveting read.
Faragher's appearance at UMFK was something of a trial run for me. I refuse to be intimidated by MS and hobbling about with a cane on shaky legs. Seeing and chatting with Fr. Jacques Lapointe again was also well worth the outing.
It's also worth getting out and about for a history lesson now and then.
Dave Wylie's life and work experience runs the gamut from newspaper editor to carpenter to grant writer to boat builder with lots of other work wedged in-between. Wylie currently is president of a management company that oversees an elderly housing complex and president of the local historical society. He resides in Madawaska.