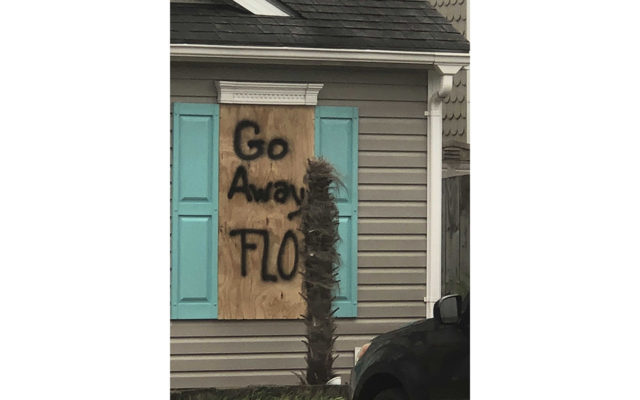 HURRICANE_FLORENCE_23750212
Patrick Vail, of New Bern, North Carolina, who has many family members in Houlton, Maine, shared a photo on Thursday of one of the wooden boards protecting his home that reads "Go Away Flo." Vail is one of many former Aroostook County residents who will ride out Hurricane Florence, a Category 2 storm that is expected to bring heavy rain and winds to much of that state through the weekend. (Courtesy of Patrick Vail)
County natives brace themselves for impact of Hurricane Florence in North Carolina
PRESQUE ISLE, Maine — Former Aroostook County residents now living in North Carolina, where Tropical Storm Florence unleashed a torrent of wind and rain last Friday and Saturday, were ready to ride out not just the storm but widespread flooding that followed.
Patrick Vail of New Bern, North Carolina, lived in Houlton briefly as an infant before his father, a former Marine Corps master sergeant, was transferred to a North Carolina base in the late 1970s. Since then, Vail estimates that he has been through nearly a dozen hurricanes, remaining in his home during them all despite living near the coast.
"I live 25 miles from the coast and New Bern is flooding as we speak, but we are above sea level so we expect to be OK," Vail said Thursday afternoon. "There was a mandatory evacuation order issued on Tuesday by Craven County but we're staying here. It would be worse if we went inland. We might not have been able to get home because they usually get bad flooding there."
The storm, initially classified as a Category 4 hurricane early last week but downgraded Thursday to a Category 2, had weakened to a tropical depression by early Sunday.
The death toll from Florence was at least 17, the Associated Press reported Monday. More than 2 feet of rain had fallen in places, and still-rising floodwaters continued to threaten the Carolinas and West Virginia on Monday, the AP reported.
Last week, Vail and his wife, Lisa, were busy buying nonperishable food items and drinking water, as well as boarding up doors and windows in anticipation of Florence's powerful winds, clocked at more than 90 miles per hour when it made landfall on Friday.
Vail still has both maternal and paternal family members who live in Houlton. Despite the danger of the Florence, he said he felt confident about riding out yet another storm.
"There's a shelter right around the corner from our home that we could go to if necessary," he said. "Over the years we've lost a few shingles on the home but nothing too major has happened at this point. It's a scary sight to live through, especially at night when you can't see what's going on outside, but if you prepare you'll be fine."
On Friday, Patrick Vail said winds were blowing at 65 to 75 mph and that New Bern had lost electricity. Surges from the ocean were coming in at 20 to 30 feet high. By Saturday, the nearly 90 mph winds had caused widespread flooding in New Bern, but Vail and his wife did not have to evacuate their home and only saw minor damage to the roof and siding.
"I know of many that were rescued by the EMS, Coast Guard or National Guard from flood waters that rose quickly," Vail said. "There are boats where there shouldn't be boats and pieces of boats floating down the river."
Flooding also was a major concern for inland North Carolina, including Huntersville, where Robyn Kinney Kvapil, originally of Mars Hill, lives with her husband, Dick. Aside from the typical shopping and home preparations, the couple moved their motorhome next to their house so that they would have access to a generator in the likely event of a power outage.
"Right now they're saying that power outages could last up to two weeks," Kinney Kvapil said Friday.
She has an uncle, sister and cousins in Mars Hill and Presque Isle and said, "We've been in Huntersville for 18 years, but this will be our first hurricane. My niece and her husband are coming to ride out the storm with us."
The couple lives just 10 miles from the city limits of Charlotte, North Carolina, and four hours from Myrtle Beach, South Carolina, where Florence brought down trees and caused widespread power outages, but was largely spared the damage the storm delivered to North Carolina, according to Fox News. In Huntersville, she said, winds were predicted to only reach 20 to 25 mph, but flooding could bring down trees and power lines.
"We're most concerned about the flooding," she said. "We brought in all our patio furniture and will keep our pets with us."
In the town of Chinquapin, North Carolina, Larry Fiedler, who is from Connecticut but attended the University of Maine at Fort Kent, has been through a number of floods, including Hurricane Floyd in 1999 and Hurricane Matthew in 2016, both of which hit hard in his region.
"I remember during the last storm, the flooding was so bad that people were tying rescue boats to my mailbox," Fiedler said. "Some areas of the county here have been evacuated but others have been just making sure they got enough supplies."
Fiedler still has many friends who live in Aroostook County and he said that surviving the northern Maine winters prepared him well for the annual hurricane season in the southern U.S.
"The preparations are actually not that different than preparing to bunker down at home for a major snowstorm," he said. "You just make sure you have enough provisions and sit tight until it's over."