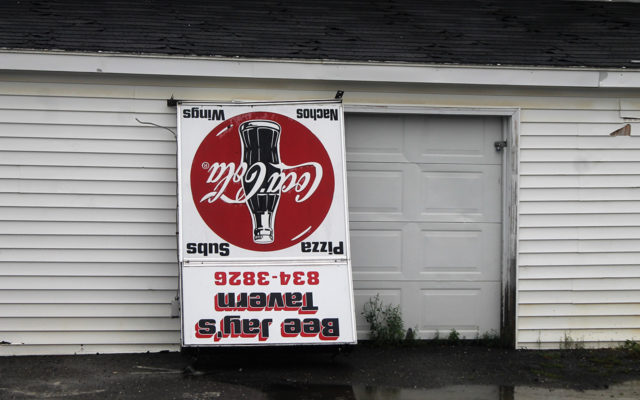 BEEJAYSSIGN_23529860
Police charged each of five young men with theft by unauthorized taking on July 14 for allegedly trying to steal this sign from atop the now closed Bee-Jays Tavern in Fort Kent. Police recovered the detached sign at the scene and notified the owners. (Jessica Potila)
BeeJays' sign goes missing, turns up in safe hands
FORT KENT, Maine — Less than two months after police charged several young men with theft for allegedly attempting to steal a sign from atop the Fort Kent building that once housed BeeJays Tavern, a former business manager contacted police to report the sign missing. The Main Street bar permanently closed its doors on June 30 after 47 years in business.
In July, Fort Kent Police officer Connor Lapierre responded to a report that a group of young men were attempting to steal the sign. Officers said they arrived in time to stop the theft and then notified BeeJays employees that they were leaving the sign leaning against the back of the building.
On Saturday, Sept. 1, former BeeJays bar manager Tracy Caron called the Fort Kent Police Department to report that the sign had gone missing from behind the former tavern.
When Sgt. Dalen Boucher investigated this time, however, he discovered that  representatives of the Coca-Cola company, had retrieved the sign, according to Fort Kent Police Chief Tom Pelletier. Pelletier said the Coca-Cola company actually owns the sign and just took back possession,
Tony Philips, general manager of Coca-Cola in Presque Isle said the sign is valued at between $3,000 and $5,000. Phillips said he read in the news that someone had attempted to steal the sign and so when a Coca-Cola driver discovered the sign was still leaning against the back of the former tavern building, he took it to return to the Coca-Cola company.
"I had seen the story that these kids had tried to steal the sign," Phillips said. "I didn't want it getting destroyed."
Among the five men police initially summoned in July on charges of theft by unauthorized taking, three have since been cleared by police. Charges are no longer being considered against Charles Nadeau, 23, of St. John; Cole McLaughlin, 23, of Houlton; and Cody Plourde, 22, of Fort Kent, according to assistant district attorney Jim Mitchell.
Josh Cyr pleaded guilty to the charge and paid a $500 fine, Mitchell said.
The case against Mitchell Roi, 22, of Carmel who is charged with theft by unauthorized taking and refusal to submit to arrest has yet to be resolved.