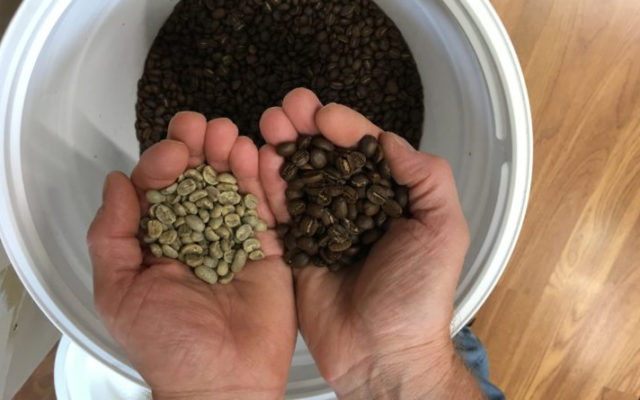 11959241_H23686912-720×445
Raw coffee beans, left, arrive at Red Devil Roast Coffee Co. in Fort Kent weekly from growers around the globe in Latin America, Indonesia and Africa. Once he has them, roaster Alan Susee transforms them into the aromatic, dark beans ready for grinding and brewing, right. (Julia Bayly | BDN)
Maine micro-roasters are getting brews to their customers one bean at a time
Andrew Newell, founder and owner of Farmhouse Coffee Roasters in Winterport, got his start as a micro coffee roaster in perhaps the most Maine way possible — out of necessity and in a backpack.
Barred from drinking coffee because of a Lyme disease diagnosis about five years ago, Newell began researching the effects of different foods and beverages on his system.
Some of his reading led him to discover it was the chemicals used in producing commercial coffees that may have been triggering digestive distress related to his Lyme disease. But organic products could be safe, he read, so he began to experiment with roasting his own organic coffee beans.
"I drank it and waited and thought, 'huh, my stomach feels OK," Newell said. "I started experimenting more, and it became fun. And I began roasting more than my wife and I could drink, so started giving it away to my friends, and they were like, 'Hey, we will buy it.'"
To read the rest of "Maine micro-roasters are getting brews to their customers one bean at a time," an article by contributing Bangor Daily News staff writer Julia Bayly, please follow this link to the BDN online.