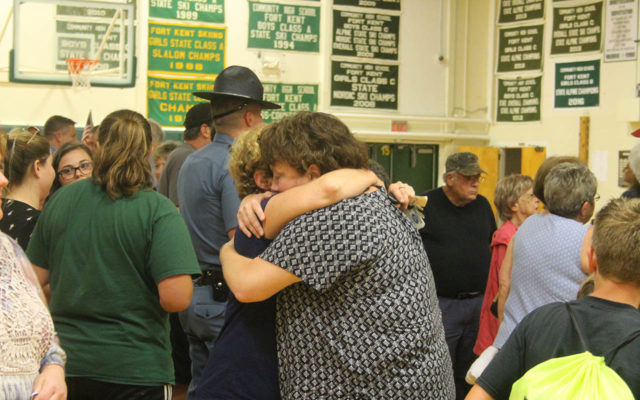 IMG_4408_23651382
Many of the audience members approached panelists, including Shelly Yankowsky, at Friday's drug addiction awareness forum in Fort Kent to share stories and embrace in somber, but hopeful, support. (Morgan Mitchell)
Walkers end addiction awareness walk in Fort Kent, join local forum
FORT KENT, Maine — Members of the community welcomed walkers Brett Bramble, John "Stick" Azerolo and Jessie Grieb with open arms and heavy hearts Friday as they discussed the loss of loved ones at a forum at Fort Kent Community High School.
Bramble, Azerolo and Grieb were in Fort Kent Aug. 17 to complete the last mile of their walk to raise awareness of the plague of drug addiction. Bramble began his 2,600-mile walk in Key West, Fla., in memory of his sister, Brittany, who died of a heroin overdose after using opioids for a back injury in 2014. Fellow walkers Azerolo and Grieb joined him.
Along with the three trekkers, the panel of speakers included doctors, counselors, parents and siblings of loved ones lost to drug overdoses, along with Senator Troy Jackson.
Dave and Shelly Yankowsky spoke first, sharing their story of not one, but two of their sons who both died from drug overdoses within a year of each other.
"There's no word big enough to describe the grief we feel," Shelly said during the forum Friday night.
John "Stick" Azerolo pauses to recompose himself during the forum to raise drug addiction awareness at Fort Kent Community High School on Friday. (Morgan Mitchell)
The Yankowskys, who both work in law enforcement, lost their first son, Adam, in 2017 after snorting heroin laced with fentanyl, and their second son, Sean, a year later due to drug addiction. They said they did all they could to teach their sons about the dangers of drugs.
"We yelled, we begged, and we cried," Shelly said about their attempts to reason with their sons about their drug addictions.
"It is time [drug addiction] gets spoken about," she said. "The time to speak about the epidemic is now."
The sentiment was shared among panelists and audience members alike, some weeping at the stories and severity of the situations.
Doug Levesque, a counselor who deals with drug addiction and family grief, said, "No parent should ever have to lose a child to addiction. [Addiction] becomes a family disease; it destroys families."
Levesque said oftentimes, people suffering from mental illness, including depression and PTSD, will self-medicate with drugs to help soothe their mental health issues.
Dr. Guy Raymond, a physician who deals with addiction recovery, emphasized there is a distinction between bad behavior and addiction.
"Addiction is not a bad behavior, it is a disease," Raymond said, eliciting a roar of applause from the audience.
"It took someone to walk across the country to wake us up a little bit," Raymond said, praising the men and woman who walked the East Coast and Maine, respectively.
When Azerolo approached the podium, the audience grew silent.
"In 202 days, there was not a single day I haven't cried on the side of the road," Azerolo said. "Every step I took, I carried someone with me, whether it was a parent or child."
Azerolo said when he began his walk accompanying Bramble, he was not fully aware or knowledgeable of the opioid epidemic.
"They're not junkies or scumbags, they're friends," he said. "They are not stats, they are our loved ones."
Near the end of the forum, Bramble, who began the trek with vision and purpose in honor and memory of his sister who succumbed to an opioid addiction after suffering a back injury, spoke to an audience prepared to cling onto every word. Bramble's demeanor was not a somber one, unlike his emotionally exhausted companion who did say he'd do it all over again if it meant saving one life.
"We can do anything we set our minds to, but we need the support," Bramble said.
With more words of encouragement to uplift the audience and give hope to those who needed to know there is a light, Bramble echoed messages of action and compassion and urged the public to support one another.  
As the forum came to a close, Bramble said, quoting Forest Gump, "I'm tired. I think I'll go home now."
While Bramble and Azerolo plan to return home, Jessie Grieb plans to do a walk of her own.
If you or someone you know is struggling with addiction, call 211 or visit www.211maine.org.