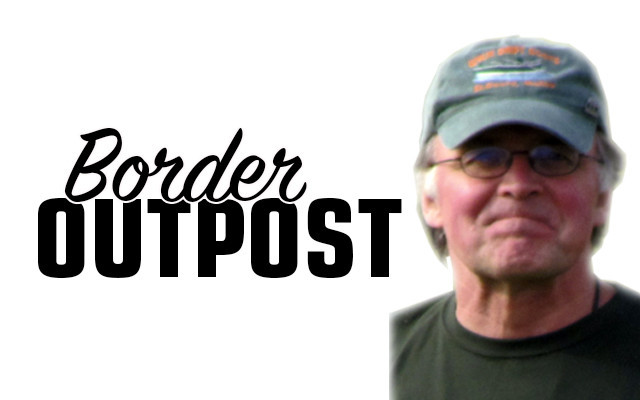 BorderOutpost-Wylie-640×400
Border Outpost: Father Empey
I don't know what inspires me to look things up when they could come back to haunt, but this is different.
I recall an incident taking place years ago when I was a boy. At the time, my family was living at the house in Frenchville, now the site of that community's Historical Society museum. The house, or at least the living room, was often the meeting place for a number of recovering alcoholics, my father included. They were members of Alcoholics Anonymous and the house was apparently an occasional meeting site for small gatherings of men whose lives were once (and ever) affected by the ravages of drink. I don't make light of this, though my father probably would in that ironic Scots humor that occasionally flashed through his often mordant demeanor.
"We're a bunch of old rummies, drunks of the first order." I can almost hear him say. I recall them sitting in chairs around the living room, grave old men, (to me at the time) who suddenly became funny and animated with stories of their lives, some of them to do with the snares and pitfalls laid by Demon Rum, some not.
My mother was probably perplexed by the presence of these men in her house, telling tales of their lives and laughing at and with each other's foibles. She served cups and cups of black coffee, the preferred libation, and I peeked into the meetings from behind a sofa in the room.
I distinctly remembered a Father Empey being there. I don't know if he was one among their number or simply someone presiding over this gathering, nor do I care. He spoke while seated, recounting his boyhood days in Ireland, roving over the hills with a shotgun in search of rabbits for the local butcher. A brace of rabbits would get him enough money for more shotgun shells, starting the cycle over again.
I thought it the ideal boyhood at the time, embellished in the telling with a lilting Irish accent. I imagined what that boyhood would be like, roving over Ireland's hills, perhaps accompanied by a faithful dog, and cradling a double-barreled shotgun. It was the stuff of dreams I thought, and perhaps it was. All for a pocketful of shells.
I was taken with this figure in my parent's living room, this jovial Irishman with stories that captivated my imagination. I found out later that he was the minister, or should I say priest, at the Anglican Church in Edmundston. That, for some reason, got me thinking about the ministry and reading the Bible in preparation. I must have been eleven or twelve at the time and I admit, the Gospels according to Matthew and Luke played into my thinking at the time. My adolescent discovery of girls made short work of that, though I still keep my Uncle John's King James Version nearby in a drawer along with family photos.
This Father Empey turns out to be someone of note later on in his life. I happened to look online for the name, and it came up as the Right Reverend Walton Empey, formerly the Archbishop of Dublin, Church of Ireland. Same fellow, once the presiding priest at the Anglican Church in Edmundston.
Imagine that, I had what would become an Irish archbishop telling stories along with a gathering of recovering alcoholics in my own living room.
It's so, well … Irish.
Dave Wylie's life and work experience runs the gamut from newspaper editor to carpenter to grant writer to boat builder with lots of other work wedged in-between. Wylie currently is president of a management company that oversees an elderly housing complex and president of the local historical society. He resides in Madawaska.