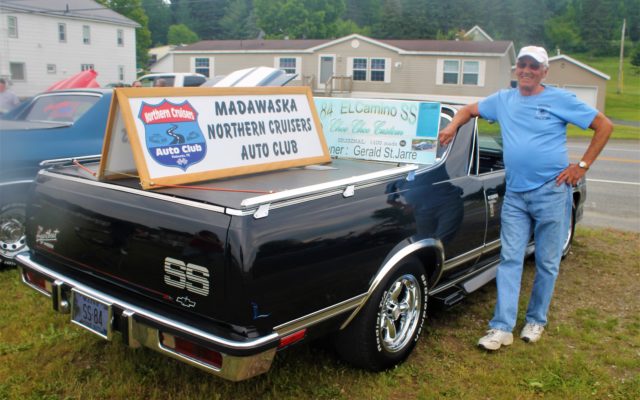 13835081_H23447118
Gerald St. Jarre, president of the Madawaska Northern Cruisers Auto Club, poses with his 1984 El Camino at an auto show at Frenchville's Heritage Park on Saturday, June 30. (Jessica Potila | SJVT/FhF)
Auto Club revs up appreciation for classic vehicles at Frenchville show
FRENCHVILLE, Maine — Automobile enthusiasts gathered at the Frenchville Heritage Park on Saturday to demonstrate their appreciation for vintage vehicles during a car show hosted by the Madawaska Northern Cruisers Auto Club.
Club president Gerald St. Jarre said the groups' 70 members attend shows throughout Aroostook County and New Brunswick almost every weekend from June through October to display their assortment of classic, antique and muscle cars.
St. Jarre said his personal passion for vintage cars began when he was a teenager living in Quebec City, and that other members of the auto club likely share the same reasoning for devoting their time and energy into collecting and maintaining the vehicles.
"They go by car dealerships and they look at these cars and say, 'Someday I'm gonna get one of these,'" St Jarre said. "(Personally),  I'm a Chevy man; it's got to be a Chevy. I have nothing against Ford, but it's got to be a Chevy or GM product for me."
St. Jarre displayed his special edition Choo Choo custom 1984 El Camino at the show. He also owns two other classic cars.
He said all the vehicles at the show looked brand new because of the efforts their owners put into caring for them.  
"We wash and clean and wax; it's never ending," he said. "Some of the cars underneath are just as clean as the top."
Anyone with a car or truck falling into the category of classic, antique or muscle is welcome to join the Madawaska Northern Cruisers for an annual fee of $20 per vehicle.
St. Jarre said antique cars or pick-ups are vehicles that are at least 25 years old. Classic cars are specialty cars and must be at least 20 years old and muscle vehicles are "those with a big motor or something with a big motor modified from being a regular street car."
Those who join will receive a free T-shirt bearing the group's logo the first year of membership and will receive a baseball style cap the second year.
The group sponsors free biannual meals for members, including a brunch each spring and a seasonal meal in the fall.
"It's our passion to show our vehicles to the public and to ride them and enjoy them," St. Jarre said.
For more information about the Madawaska Northern Cruisers Auto Club or to join the group, call Gerald St. Jarre at (207) 728-6208.