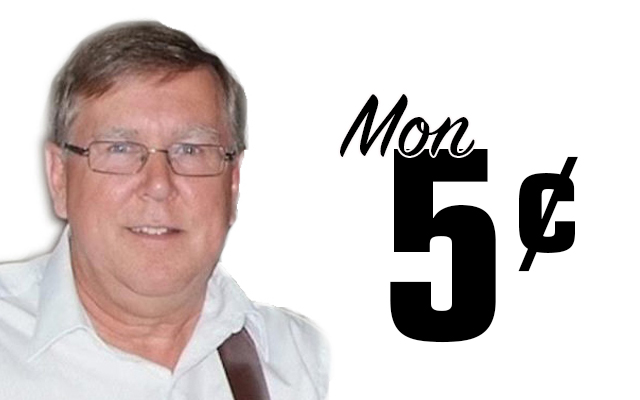 Not for all the tea in St. David
France
Nous avons passé deux semaines en France. Non, on a pas eu peur. On se sentais très secure. Y avais des soldats avec des fusils pi des chiens dans les aeroports pi les gares de trains mais pas ailleurs. Le monde est fins pi polis pi tous l'temps prèt pour nous aider. C'étais vraiment spécial.
Comprendre
On a pas eu d'misére a s'faire comprendre en Normandie pi on a pas eu d'misére a les comprendre non plus. Ailleurs en France l'monde trouvais qu'on avais une accent charmante. Deux differente personne a qui on a parlé nous on répondu en anglais en cause qui pensais que le français étais notre langue seconde. Mais, y changais d'toune quand qu'on yeux répondais en français. J' yeux disais qu'y avais pas yainque moué qu'avais un accent. C'étais une bonne joke que tous l'monde ont aimés. Une femme ma dit que j'parlais comme sont grandpére. Comme 99 pour cent du temps on les a compris pi on s'faisais comprendre.
Thé de Saint-David
Quand le thé est faible, nous autres on appel ça du thé de Saint-David. Quand le thé est faible d'l'autre bôre de la rivière (Edmundston), eux autres y appel ça du thé d' Saint-Basile. Cosse j'trouve drôle c'est que Saint-Basile est en face de Saint-David. Ni un ni l'autre savais faire du bon thé, I guess.
Un miracle
Comment on appel un francophone qui parle anglais itou? Bilingue. Comment on appel un anglophone qui parle français itou? Un miracle.
Things I learned in Québec
"Un vélo" is a bicycle mais "un bicycle" is a motorcycle. J'savais pas ça. On est jamais trop vieux pour apprendre qu' chôses nouvelles, I guess.
P'tit Jean (Chapitre 12)
As you recall from last time, the old magician killed the magic horse, Gros Gris, and P'tit Jean brought it back to life. P'tit Jean étais tellement content qu'y portais pas a bas. Y sautais pi y riais pi y braillais en même temps. Gros Gris dit, "P'tit Jean, on a pas grand temps pour célébrer. Meque que l'vieux magicien voie que shu pas môrt, y va nous tuer tous les deux!" P'tit Jean arrête de sauter pi danser. Y dis, "Gros Gris, cosse qu'ont va faire?" (Oui, cosse qu'y vont faire? La réponse le mois prochain, cher ami(e)s.) Also, l'mois prochain j'va vous parler encôre de not'e voyage en France. Stay tuned.
Don Levesque is a Grand Isle native who worked in community journalism for almost 35 years. He was the publisher and editor of the St.. John Valley Times for 15 years prior to retiring in 2010. He wrote a weekly newspaper column, called Mon 5¢, in the Valley Times for more than 20 years. He has been inducted into the Maine Journalism Hall of Fame and the Maine Franco-American Hall of Fame.