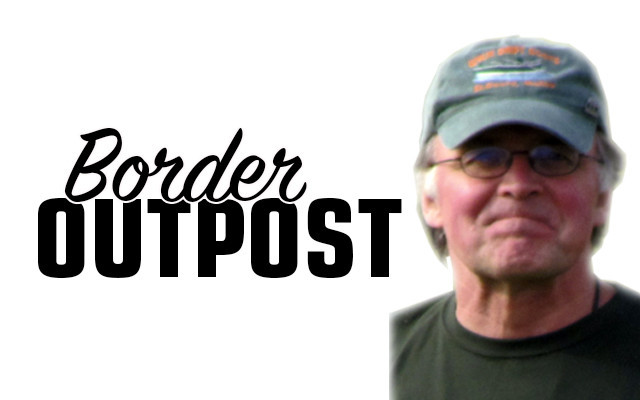 BorderOutpost-Wylie-640×400
The faith of our fathers
When my parents married some 66 or so years ago, theirs was an unlikely union. My father was a non-practicing Protestant, my mother devoutly Catholic. Their ancestral heritages were starkly dissimilar as well.
This is not one of those Orange-Green relationships you hear about in Irish stories, even though it may have similarities. What I can determine from the record is that both of them were extraordinarily liberal minded at the time, and their affection for each other was of a type that grew with the onset of afflictions and travail. I can assert that I may have had something to do with their marriage, though I was completely unaware of it at the time.
My father's Scots Protestantism was based on an extreme version of Presbyterianism. That version, in Scotland at any rate, led some commentators to call them Scottish Taliban. I've mentioned the term 'Covenanter' on other occasions. It comes with mixed reviews, depending on which side you prefer. I prefer the version of the Scots Covenanters forming an army that overthrew the King of England. He tried to impose his version of prayer on the Scots and they weren't having any of that.
What followed were the Bishop's Wars, Cromwell and his gang, and the interlude the Scots affectionately call The Killing Times. Then, Covenanters were hunted down and usually dealt an extreme form of summary justice. Ultimately, what transpired was a view that the convictions of one's conscience mattered above all others. That view was carried by the Covenanters to America.
This wasn't an easy faith to have and they set themselves up to make things even more difficult, but conscience is all that matters, they said. The Covenanters opposed the Constitution because it permitted slavery, and became abolitionists when such ideas were unpopular with many in this country. However, if conscience is everything, then right is right and wrong is wrong.
Whether or not my father practiced his faith by going to church was of little importance. What was sternly impressed by him on me was the small matter of conscience. There were certain things you did and didn't do, and certain responsibilities entailed in that little voice inside that said "thou shalt" and "thou shalt not" accordingly. I think I've lived in large measure by responding to that voice. It sounds extraordinarily like my father.
By "faith of our fathers" I don't mean to exclude one's mother — my mother in particular. Her Catholicism, as practiced, was real. It was not the attendance in church that mattered as much as how one responded and acted toward others that made my mother what I consider to be close to what one would call a saint. Others tell me as much.
I've seen it for myself in schoolyards, when as a teacher at recess, children flocked around her like little birds vying for her attention. And she gave it.
I have an imprecise impression of what compassion is and means. I say 'imprecise' because I cannot and will not flatter myself to the extent that I have my mother's compassion for others. I will stress that this world would be a lot better place if we had even a smattering of her compassion. Hers was a faith rooted in a genuine empathy with others.
A story my mother told me: my father [was] nearing death on his deathbed in the hospital. She said he asked if she wanted him to convert to her faith. My mother, ever the soul of discretion, had the good sense to ask him back, "Do you want to?"
His answer was a quiet, "No."
Things were left at that. He died Protestant. I cannot tell you how grateful I am to have known them.
Dave Wylie's life and work experience runs the gamut from newspaper editor to carpenter to grant writer to boat builder with lots of other work wedged in-between. Wylie currently is president of a management company that oversees an elderly housing complex and president of the local historical society. He resides in Madawaska.