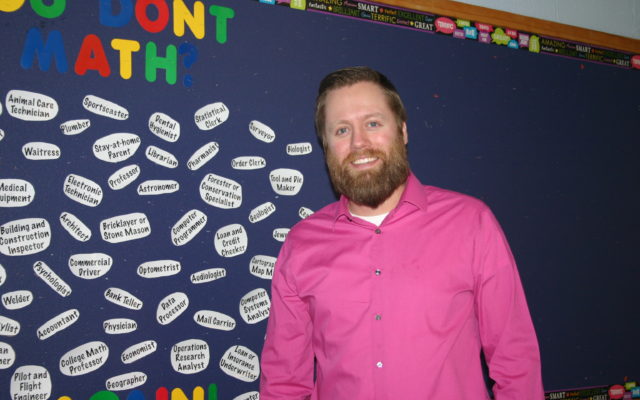 County Face: Jacob Graham of Mapleton
Jacob Graham of Mapleton strives to maintain a positive outlook on life whether he is in front of a classroom at Presque Isle Middle School, performing music for people or just talking with family and friends. His experiences have taught him that doing what he loves will bring out the best for himself and those around him.
Graham has taught math and science at Presque Isle Middle School for four years now, but he did not always expect education to become his career path. He began at Northern Maine Community College as a liberal studies student, thinking that he would transfer to Husson University in Bangor after two years to earn a degree in physical therapy. But after taking early Husson courses through NMCC, he soon realized the medical field wasn't for him.
Volunteering with the Presque Isle Recreation Department helped Graham discover that he enjoyed working with children. He enrolled in the elementary education program at the University of Maine at Orono after graduating from NMCC, and through his student teaching found that working with middle school students gave him the greatest satisfaction.
"At that age students are going through a lot of changes and are trying to figure out who they are, so when they finally find their way and get excited about what they're learning, that's what makes everything worthwhile for me," Graham said.
For Graham, teaching has made many aspects of his life come full circle. He now teaches in the same classroom where he took social studies at Presque Isle Middle School and considers many former teachers his colleagues and friends. His admiration for the teachers who helped shape his early teen years motivate him to be a great role model for his own students.
"I remember back when my parents took the family camping, we met this man from Massachusetts who had been a teacher for 27 years. He said, 'Do it until you don't love it anymore,'" Graham said. "Teachers don't go into teaching for the money, they do it because they love helping students. The teachers I've admired are the ones that keep that in the forefront of their minds."
Graham has also gained a reputation as a singer and performer. During the past several years he has appeared in many Presque Isle Community Players shows including the plays "You Can't Take It With You" and "Last Gas," the latter written by Presque Isle native John Cariani and set in northern Maine. Most recently he competed in and won the annual United Way of Aroostook Northern Star talent competition as a singer and guitar player.
In high school Graham conquered his fear of performing in front of a crowd when he played the character of Willard in a musical production of "Footloose." Since then he has taken every opportunity he can to perform and has begun writing original songs inspired by everyday experiences. He won over audiences at the Northern Star finale in Caribou with his self-penned songs "I Cried Too," loosely inspired by the story of a former student, and "Fly," which he wrote after his mother's death in 2013.
Though Graham had made it to the Northern Star finale in years past, he was surprised to hear his name called as the winner this year. He has already gotten offers to perform at local summer concerts and festivals and wants to continue his side gig as a singer-songwriter.
"I love making people feel good with my music and I encourage anyone who enjoys music to continue playing and singing," Graham said.
Graham hopes to one day move into the administrative side of education. He thinks that gaining further experience as a teacher could help him be a greater advocate for students and teachers and inject more positivity into an ever-changing career field. Many times his students give him the best inspiration to pursue his goals.
"As adults we're always busy and sometimes we give up on our dreams, but children are always dreaming about what big things they'll do when they're older," Graham said. "My students inspire me to keep those big dreams alive."