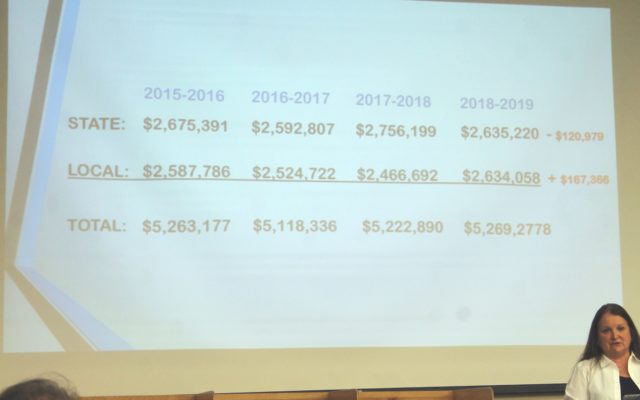 12543461_H23346942
Gisèle Dionne reviews the previous years' school budgets at the Madawaska school budget meeting Tuesday night, June 5, at the Madawaska Middle High School library. (Morgan Mitchell | SJVT/FhF)
Madawaska residents approve nearly $5.3 million school budget, regionalization effort
MADAWASKA, Maine — Residents on June 5 approved a $5,269,278 school spending plan that increases the local share of costs by about $167,000. They also OK'd moving forward with a school regionalization plan with other school systems in the St. John Valley.

The spending proposal voters approved during the annual budget meeting held at the high school has increased by about $46,000 total, but state funding for education also has decreased by about $121,000, according to Superintendent Gisèle Dionne.
Robert Bellefleur acted as moderator during the meeting at which 47 voters weighed in on 17 articles, including Article 14 which requested residents approve $933,482 in additional local spending above what the state stipulates for essential programs and services.
The "costs covered by the additional funds will include substitute teacher pay, supplies and equipment, professional development, athletics and co-curricular expenses, system administration/support, operation of plant, and pupil transportation," Dionne said after the meeting.
While all other articles were passed by a show of hands, Article 14 went to a ballot vote and was approved 42 to 5.
Voters also agreed to have the Madawaska School Department enter into a regional agreement with School Administrative District 33 in the Frenchville area and SAD 27 in the Fort Kent area to save money.
Administrators and others from the three school systems have been working since the fall of 2016 on a Tri-District Strategic Plan in an effort to address rising costs and declining enrollments.
A major outcome of this strategic planning process was the proposal of a single high school in the region, to be shared by all three districts. The plan also rolls out other priorities related to shared services, educational reform and the regionalization of adult education programs.
The three school systems applied together for state funding and are among the finalists for a grant to fund construction of a new regional high school.
Madawaska residents at the June 5 meeting were told before the vote on approving a regional agreement that the result would be final and would not require a separate referendum vote.
Don Chasse, a member of the Madawaska Board of Selectmen,voiced concerns during the meeting about the finality of the vote.
"If we vote now, we can't go back," Chasse said.
But members of the school board made it clear to the audience that residents of the other school systems already had approved such an agreement and that Madawaska needed to take action now.
Other concerns posed involved the location of the new school with regards to the three communities.
Resident Stacey Cyr eased the concerns of the voters in attendance by affirming that they weren't "voting for the new location of the high school" but were instead voting to proceed with plans for regionalization and to create a governing board.
Under the regionalization plan, a governing board would be made up of nine individuals — three from each district of which two would be board members and one an administrator. Any action to occur from that regional board would need a vote of 7 to 9.
"We need to start thinking about what kind of education we want to give our children," Dionne said. "What is most important — is it what we offer our students, or is it the location of the school?"
In the end, residents overwhelmingly approved by show of hands moving forward with the regionalization plans. There were no votes in opposition.
Follow Morgan Mitchell on Twitter @TheMaineMorgan