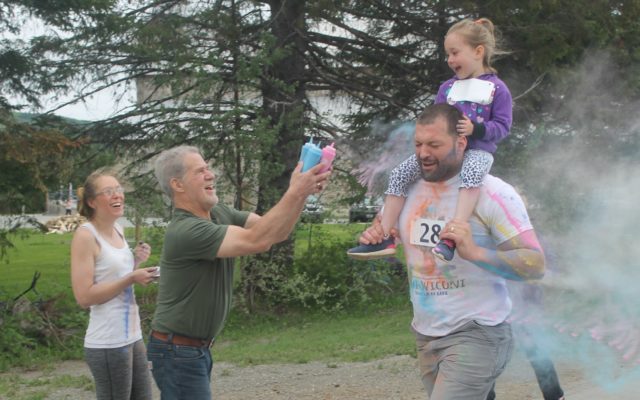 12076681_H23311640
Hannah Voisine (left) and Don Blanchette spray runner Micah Berube with colored powder much to the delight of Eve Berube, at a Color Run fundraiser at Dr. Levesque Elementary School on Saturday, June 2. (Jessica Potila | SJVT/FhF)
Color Run raises funds for Dr. Levesque Elementary School Walking Club
FRENCHVILLE, Maine — More than 60 people of all ages turned out for a Color Run fundraiser on Saturday to support students in the Dr. Levesque Elementary School Walking Club.
Participants, ran, walked or rode bicycles around the elementary school during the Color Run, while volunteers sprayed them with colorful powder at several checkpoints.
The event raised $330 for the club, which meets during morning recess sessions at DLES.
"The walking club is a club open to anyone who wants to participate in the morning recess," said Maine School Administrative District 33 school nurse Stephanie Nadeau, who organized the Walking Club as well as the Color Run. "The majority of students who participate are in K-3rd grade but it is open (to anyone) and anyone can walk any day they choose."
To encourage healthy exercise the club provides students with fun rewards in the form of feet shaped necklace charms.
"There are all different colors, sparkle feet, tie dye feet and even glow in the dark feet. The more they walk, the more they earn. They earn one foot for every 5 recesses they walk with me," Nadeau said.
Money raised from the Color Run will help to purchase the foot charms, and certificates which Nadeau will present to Walking Club students at the end of the school year. Remaining money from the fundraiser will help support a second annual Color Run next year.
Many of the students in the Walking Club also participated in the Color Run.
"It was a fairly easy event to put on and we had so much fun. I mainly wanted the kids to experience the accomplishment of finishing a race, hence making it a smaller 1k goal for them is very attainable," she said. "We just really wanted to have a fun event to encourage people to move whether it be walk, run, or bike."