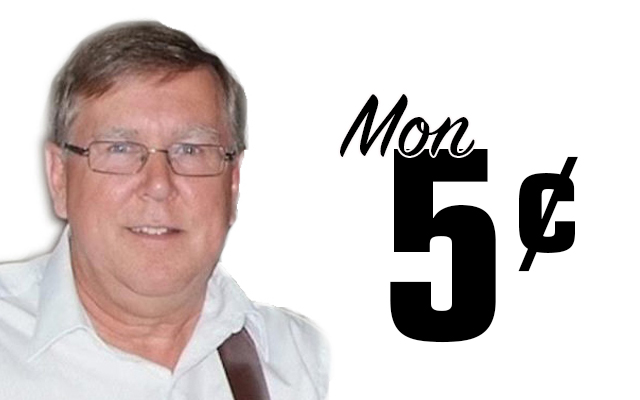 Waiting for train to pass brings back childhood memories
60 mph
L'autre jour j'tais a douane a Madawaska pi j'arrêté pour laisser passer l'train. Ca ma faite pensé quand moi pi mon cousin Jim s'plantais d'boute au côté du traque a Grand Isle quand l'train passais a 60 miles a l'heure. Si tu r'garde toujours en avant, ça file comme si l'train grouille pas pi c'est toué qui va 60 miles a l'heures. L'autre jour a douane ça filais quissement comme ça filais 50 ans passées.
Ployes
A guy said the other day on the Internet that he had ployes for the first time in Shediac, New Brunswick. Ça sonne pas b'en ça.  Almost no one anywhere eats the same type of ployes that we do in the Valley. Tête b'en que s'gah la a rencontré quelqu'un de par icitte qui est mouvé a Shediac. Le monde par la mange plutôt des poutines rapées. Franchement, moué shu pas fou de tça la poutine rapées. Poutine rapées is definitely an acquired taste I'm unfortunately not about to acquire, j'ai b'en peur. Mais les ployes, c'est toute une autre histoire. Des ployes y en a jamais trop, pi y a jamais assez.
J'en ai aseé!
Amarante (A.J.) Michaud of Grand Isle wrote a regular newspaper column in the St. John Valley Times for many years. Thanks to historian Guy Dubay, here is part of A.J.'s May 11, 1972, column: J'en ai beaucoup. J'en ai plein les deux mains. J'en ai a plein. J'en ai gros. J'en ai une cochonnerie. J'en ai qu'a savoir faire. J'en ai de la moitie de trop. J'en ai un saccage. J'en ai en masse. J'en ai un battée. J'en ai en maudit. J'en ai trop. J'en ai plein mes culottes. J'en ai en batège. J'en ai plein mes bottes. J'en ai plein mon casse.
P'tit Jean (Chapitre 11)
The last time we spoke P'tit Jean woke up to find that Gros Gris had died, as Gros Gris had predicted. P'tit Jean ouvre l'cruchon d'sueur pi y commence a frotter Gros Gris d'un boute a l'autre, d'un boute a l'autre, d'un boute a l'autre. Y frotte pi y frotte, les grosses larmes coulais sur ces joux mais y continuais a frotter pi a frotter. Toute d'un coup, Gros Gris s'reveille! (Stay tuned next month, cher lecteurs, l'histoire est loin d'être fini.)
Don Levesque is a Grand Isle native who worked in community journalism for almost 35 years. He was the publisher and editor of the St.. John Valley Times for 15 years prior to retiring in 2010. He wrote a weekly newspaper column, called Mon 5¢, in the Valley Times for more than 20 years. He has been inducted into the Maine Journalism Hall of Fame and the Maine Franco-American Hall of Fame.