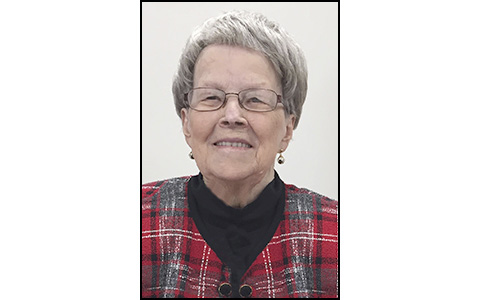 Carmen M. Doucette (1926—2018)
VAN BUREN, Maine — Carmen M. Doucette, 91, passed away Thursday, May 3, 2018, at a Caribou hospital, with her family at her side. She was born June 26, 1926, in Van Buren, the seventh of fourteen children of the late William and Adele (Castonguay) Marquis.
Carmen was a 1944 graduate of former Sacred Heart High School, Van Buren, and married her beloved husband in 1948. After celebrating 60 years of loving marriage, he passed in 2008.
She worked her entire life in the banking industry, beginning as a county office clerk for Farmers Home Administration and then with Gateway Federal Credit Union, Van Buren, upon its 1966 opening. She later became an assistant manager for Washburn Trust Company before becoming branch manager of former Fleet Bank, Van Buren, until her retirement in 1988.
She was a life-long communicant of St. Bruno-St. Remi Church, enjoyed being active in many church and community events, was a former member of the St. Bruno Choir Society, a volunteer for the parish's Mercy Meals, and a 72-year member of the Daughters of Isabella. Carmen was an avid reader, enjoyed solving crossword puzzles or tasking away in her garden. She especially enjoyed spending time with her family and many friends at the family camp in Van Buren Cove, Long Lake.
She is survived by two sons, Bill and Bob Doucette of Van Buren; a daughter-in-law, whom was like a daughter, Phyllis Doucette of Van Buren; two grandsons, Philip Doucette and his wife, Stephanie, of Auburn and Tom Doucette of South Portland; two great-grandsons, Owen and Lucas Doucette; three sisters, Theresa Ouillette of Caribou, Gemma Geisman and Robertine Dreyer, all of New Hampshire; one brother, Lucien Marquis and his wife, Angela, of New Hampshire; and many nieces and nephews. In addition to her parents, Carmen was predeceased by her husband of 60 years, Peter Doucette, in 2008; her oldest son, James Doucette, in 2010; and an infant son, in 1949; and eight siblings, the Rev. Irenée Marquis, CSSR, Robert Marquis, Sr. Fernande Marquis, Pauline Beaulieu, Geraldine Beaupre, Alyre Marquis, Philip Marquis and Gerard Marquis.
A Mass of Christian Burial will be celebrated at 11 a.m. on Wednesday, May 9, 2018, at St. Bruno-St. Remi Catholic Church, Van Buren. Relatives and friends may greet the family Tuesday 6-8 p.m. and Wednesday morning 9-10:30 a.m. at Lajoie Funeral Home, 118 High St., Van Buren. Spring interment will be at St. Bruno Cemetery. In lieu of flowers, donations in Carmen's name may be made to Knights of Columbus Parish Needs, 284 Main St., Van Buren, ME 04785. To share condolences online, please visit LajoieFuneralHome.com.