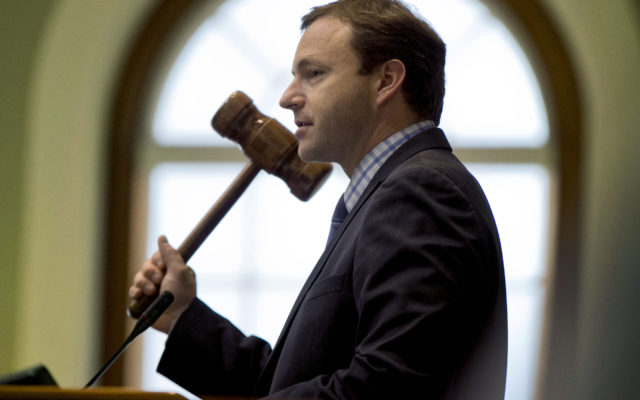 10322665_H23039156
Mark Eves (BDN File | Robert F. Bukaty | AP)
Iron Workers union endorses Mark Eves for governor
EDITOR'S NOTE: Since our staff cannot meet with all candidates or cover their campaign events, we have created this site to share candidate press releases and statements with our readers. The items are posted in their words and unedited. The views expressed are their own and do not necessarily reflect the views of Northeast Publishing.
PORTLAND, Maine – On Thursday, Mark Eves, Democratic candidate for governor of Maine, announced the endorsement of the Iron Workers Local 7, which represents over 3,500 union members at work sites like the Sappi Mill in Hinkley and the Twin Rivers Mill in Madawaska. Local 7 is the first local union to endorse in the governor's race.
"Throughout his career, Mark has been a tireless champion for working people," said Reginald Munson of Mattawamkeag, Business Agent for Local 7. "We know we can count on him to stand up to the powerful corporations that have controlled our politics for too long. That's why we heartily endorse him for governor."
In making their endorsement, leaders of the union pointed to Eves' history of supporting working Mainers in the legislature, including a career 98% voting record from the AFL-CIO and blocking eight separate attempts by Governor LePage to pass union-busting "right to work" legislation. They also applauded his plans for expanded health care, worker safety, and job training.
In a letter to Eves acknowledging the endorsement, Local 7 President Richard Abbott wrote, "We believe that you understand our views and will continue in the same manner protecting the working families of tomorrow. We need more people like you that are willing to do the hard work required, such as bringing people together to have challenging conversations."
The Iron Workers endorsement follows two other major labor achievements by the Eves campaign. On Saturday, at the Labor Governor's Debate in Winslow, co-hosted by the Maine AFL-CIO and other union groups, Eves won the straw poll of attendees. Then on Monday, Eves' campaign and the national Campaign Workers Guild announced that – with his support and encouragement – Eves' campaign staff had unionized, making his the first organized political campaign in New England history.
Eves is the son of a public-school teacher and a retired military chaplain. A licensed family therapist, Eves spent eight years in the Maine House of Representatives, including two terms as Speaker. Eves lives in North Berwick with his wife Laura, their three young children, four goats, two pigs, and a coop full of chickens.