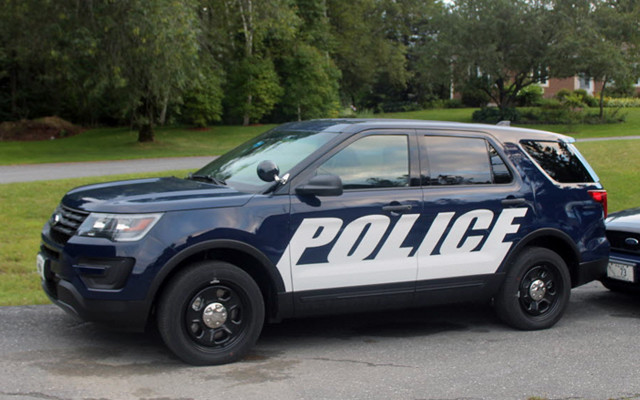 FKPD
Police cruiser for the Fort Kent Police Department. (Jessica Potila | SJVT/FhF)
Lincoln man accused of driving drunk, hitting light pole in Fort Kent
FORT KENT, Maine — A Lincoln man is facing charges from two separate police agencies after allegedly driving drunk and hitting a street light pole in town earlier this month.

The series of events that led to Cameron Fournier, 19, being arrested and charged with operating under the influence and  leaving the scene of a property damage accident began early the morning of Saturday, April 7.
Officer Michael DeLena of the Fort Kent Police Department was conducting a traffic stop on another suspected drunk driver just after 1:30 a.m. that day when he saw a white Chevrolet pick-up traveling erratically on Pleasant Street. While he dealt with his suspect, DeLena contacted the Maine State Police about the other vehicle, according to FKPD Chief Tom Pelletier.
Trooper Nathan Desrosier responded to that call and ultimately arrested Fournier, charging him with OUI.
Later that morning, however, a caller contacted the local police department to report that a street light on Pleasant Street was severely damaged.
Officer Connor Lapierre of the FKPD investigated and matched evidence from the scene of the light pole accident to some damage to Fournier's pickup, which had been towed following his arrest a few hours earlier to Twin's Service Station in town, according to Pelletier.
When confronted, "Fournier admitted to having struck the light pole and was charged with leaving the scene of a property damage accident," Chief Pelletier said Monday.
Pelletier estimated damage to the light pole at about $2,500.
Fournier is scheduled to appear on Monday, May 7, in Fort Kent District Court.