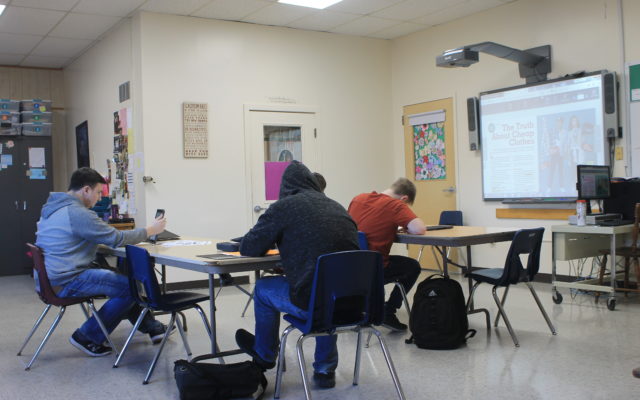 21638341_H22289316
Presque Isle High School students sit in the life skills classroom during study hall with special education teacher Julianne Dunleavy on Dec. 4. (Anthony Brino | Star-Herald)
Special education costs a perennial concern for school districts
PRESQUE ISLE, Maine — This year in School Administrative District 1's budget proposal, administrators highlighted a trend that they think parents and community members should know about.
SAD 1 "has noticed a steep increase in litigation," the budget document said, referring to appeals of special education services by parents, often with help from attorneys.
"Southern Maine and lower New England have been experiencing this for years and the trend appears to have made its way north. If higher rates of litigation continue, costs may climb at an unprecedented pace."
SAD 1 provides special education to 18.5 percent of its students, more than the state average of 16 percent and national average of 12 percent. The district is set to spend $3.48 million on special education in the 2018-2019 school year, up from $3.07 million this school year and $2.5 million in the 2016-2017 school year.
While the factors behind special ed needs are numerous and complex, the costs of providing the special ed services are a challenge many districts are grappling with, according to Denise Bosse, SAD 1's special education director.
"This is probably the hardest issue we have," Bosse said.
The rise in litigation doesn't mean parents are taking the district to court. But more parents, with the help of lawyers, are appealing decisions related to their children's individualized education program, a plan for special ed students that's crafted with parents and teachers, Bosse said.
School districts still incur legal costs for appeals that are dealt with outside of the courts; special ed legal costs are up $45,000 this year for SAD 1. Clint Deschene, SAD 1's assistant superintendent, said that special ed legal costs have fluctuated over the last few years and that budgeting for legal costs is "a wild card."
In 2013, SAD 1 budgeted $30,000 for special ed legal costs and spent $26,000, while in 2014, the district spent only $1,000. For 2017, SAD 1 budgeted $30,000 and spent $56,000, and this year the district is on track to spend $95,000, Deschene said. For the next school year, the district is budgeting $60,000 — "hoping the $95,000 was more of an anomaly," Deschene said.
Districts may end up agreeing to provide services parents are requesting through appeals rather than defend their decisions in court, since districts can be required to pay parents' legal fees on issues found in their favor.
"It is a special education issue not only in Maine but all over the United States," Bosse said of special education litigation. "For whatever reason, parents feel that they must become aggressive and litigious in how they are dealing with what they perceive is the best programming for their children."
Bosse said the district cannot provide details about specific cases related to SAD 1 special ed litigation due to the Family Educational Rights and Privacy Act.
But, she said, the litigation often involves appeals of the district's decisions on a student's individualized education program, with parents seeking more involved special ed services and sometimes placement in a specialized school dedicated to behavioral issues and intellectual disabilities. SAD 1 currently has three students in an out-of-district placement, including at the Central Aroostook Association in Presque Isle, a nonprofit education center for students with a range of disabilities.
Federal law requires special education students to be educated in "the least restrictive environment," meaning that students with a disability should be able to learn with non-disabled peers in the regular classroom.
Deschene said that the district has not gone to court in recent years but is nonetheless alarmed at the spike in special education costs and the appeals by parents.
"This is what it's like to operate a special ed department today. What's unique for SAD 1 is we've seen this increase for two years. This may go away, we don't know."
Part of the challenge with special education in general is how it is funded by the state, Deschene said. Under the "maintenance of effort" requirements, school districts have to keep providing the same level of special education services unless they can demonstrate that their special ed student population has decreased. The state reimburses districts for special education costs, but usually with a one-to-two year lag time, Deschene said.
Across the state, annual special education spending increased more than 15 percent between 2010 and 2015 to $351 million, while regular education spending increased by 10 percent, according to the Maine Education Policy Research Institute at the University of Southern Maine.
"The increase in costs of special education has been on the DOE's radar for a while," said Jan Breton, special services director at the Maine Department of Education. "It is in fact going up." Costs associated with litigation and appeals are also increasing statewide, she added.
Litigation and appeals by parents, with or without lawyers, often boils down to their pursuit of "appropriate education" for their children, Breton said.
"Parents' concerns run the whole gamut. For example, let's say a child is autistic and the school recommends that child has placement with speech therapy. Parents may want a different setting, such as a special school."
While service center communities like Presque Isle or Bangor often have higher rates of special education needs, it's also a concern for smaller districts. At SAD 42 in Mars Hill, 20 percent of students receive special education services, a majority of them for speech and language needs, said superintendent Elaine Boulier.
"Special ed costs go up almost every year because we tend to have more kids with needs," Boulier said. "Our biggest cost driver is kids who have to go to a specialized private school. It is a huge expense."
Currently, two students at SAD 42 are in outside placements, although the district has not experienced litigation with parents, Boulier said.
Placing a student in a specialized school is a last resort, coming after "many months of trying to do many different interventions that haven't worked for the child.," Boulier said. "If a child has behavior needs that you can't service, then Central Aroostook Association is the next step for us."
Tim Doak, superintendent of RSU 39 in Caribou and SAD 20 in Fort Fairfield, said the special education student population has declined from 20 percent to 15 percent over the last 8 years in Caribou, while it's increased slightly in recent years to 18 percent in Fort Fairfield.
Doak said each district has a small number of students in outside placements and that those often involve students with anger management issues.
"We are seeing more of the younger ages having tendencies of those behavior issues," Doak said. "Sometimes an out-of-district placement is the best option."
Doak said he thinks special education is an area where school districts can collaborate and share resources and expertise, especially for students who spend time in special placement for behavior issues.
"We need to make sure that there's a smooth transition back to schools," Doak said. "Rural schools in The County here need to work together in how we service these kids in a cooperative effort."
Boulier said that Maine does a good job overall of identifying and serving students with special needs, which may be one reason why the state's rate of special needs students is higher than the national average. She added that schools addressing learning and behavior problems earlier on could help prevent larger problems for students as they age.
"The sooner you can identify them, the sooner more than likely you'll be able to get them out of special ed and they'll be average students. If you wait until they're in third or fourth grades, those gaps you may never be able to make up."
Bosse also pointed to a January 2018 state legislative task force report that made nine recommendations for improving special ed services and reducing the costs of those services.
The report calls for reducing paperwork for special ed teachers, changing state special ed funding formulas for districts, and considering funding for universal pre-kindergarten programs.
The report also recommends making teacher certification more flexible for special ed, promoting dual certification of special ed and general education, and integrating special ed into the regular classroom.
For instance, the report suggests changing state rules to allow for special ed and general ed teachers to co-teach classes and for general ed teachers to serve students in individualized education programs.
Bosse said the report has hit home with many educators and suggests that there is a consensus that the state's special ed system needs changes.
"I read that report," she said, "and I felt, 'Wow, I'm not the only person that is seeing this, everybody is seeing is.'"