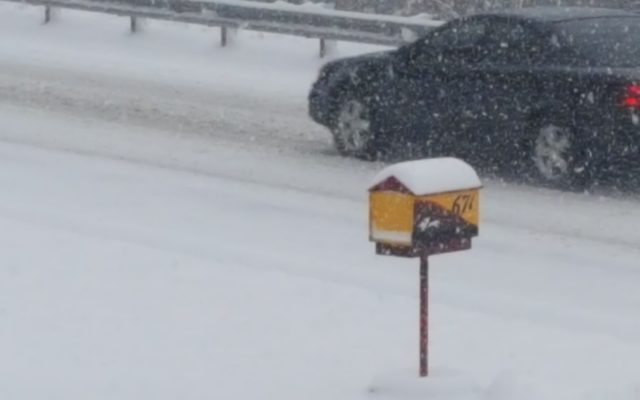 SNOWAPRIL4_23046466
A car travels on snowy Route 1 in Fort Kent. (Andrew Birden)
Storm dumping snow in northern Aroostook, rain elsewhere
CARIBOU, Maine — About 3-4 inches of snow already has fallen on parts of the St. John Valley with around 8 inches anticipated before the latest winter storm blows through northern Aroostook County by around midnight. 
Central and southern Aroostook can expect less snow, according to Meteorologist Mark Bloomer of the National Weather Service in Caribou. At about 9 a.m. Wednesday, about one to two inches was on the ground in central Aroostook while Houlton only had roughly half an inch.
While the forecast called for the storm to end around midnight Wednesday, Bloomer said the serious snowfall may end by sundown. The St. John Valley is expected to get the most snow in the aftermath with a prediction of roughly seven and eight inches by the end of the day, he said. Caribou should see about five inches and Presque Isle maybe four before it's over.
The precipitation is all rain in Bangor and Portland, according to Bloomer, is expected to stay that way for the duration of the storm.
"The St. John Valley will hold out with most of the snow," Bloomer said, adding that while the heavy snow "should be over by sundown," there could still be some rain and snow in the late evening.
It's unlikely that this will be The County's last taste of snow, as Bloomer said there is a possibility of more snow on Friday.
"The track is uncertain, and it might stay in the Down East area," Bloomer said of a potential Friday storm. "There might be some snow here, but it's not looking like there would be much. It's too early to tell."
County drivers are urged to exercise caution, particularly mid-day Wednesday, as Bloomer said road surfaces will be slushy.
"In areas where it's snowing hard, there could be a very slippery layer of water under the slush," he said.
He added that visibility in central and northern Aroostook could be reduced to "below half a mile at times."