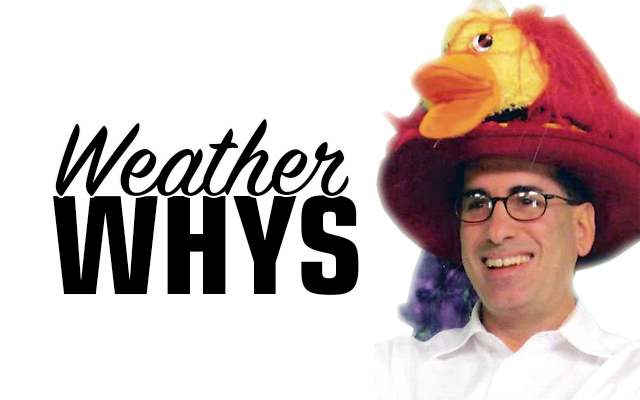 Astonishing snow squalls
Eleven days ago, on the 10th of March, an incredibly intense snow squall band developed in northeast Aroostook County, and delivered snow squall totals the likes of which I have not seen in my 11-plus years in the County.
Prior to the 10th, the highest squall-related total I knew of was 4 inches in an hour and a half in Edmundson a few years back. That snow fell from what is called a snow squall streamer. These are narrow bands of intense snowfall that form downwind of a significant body of water. In that case it was from the widening part of the St. Lawrence River. Interestingly, had one only been looking at the Caribou radar, one would not have seen the squall, because at that distance from the radar site in Hodgdon, the radar beam was overshooting (higher than) the top of the clouds producing the snow squall streamer. It was a night with a cold NW flow, partly cloudy skies, when suddenly a guy called up and said, "Hey there, I thought you might like to know we have 4 inches of snow down in Edmundson." The radar screen was completely clear.
It underscores what I always say about social media. Everyone can become a citizen observer by simply posting at facebook.com/tedsweather, what is going on with the weather where they live. That way, as I always say, people headed in that direction will know what to expect. Post in an existing thread or on the wall. Your fellow travelers thank you.
OK. Back to the matter at hand: the snow squalls of March 10. They were of the intensity that is more typically associated with the lake-effect snow streamers which fall downwind of the Great Lakes. Also, similar to those squalls, there was a very sharp gradient, or cut-off, of the heavy snow. I had a report of someone who was on the road, going from 1" to 10" over just three miles. Now, unlike typical Great Lakes squalls, the ones we had came with relatively little wind. This made measuring what fell pretty easy. And what measurements they were.
Let's start tossing around some truly amazing numbers. I had widespread reports of 8 to 10 inches from Washburn, falling in two and a half hours. I had one report in Woodland, on Rabbit Ridge Road, of 10 inches, which fell between 4:30 and 7  p.m. Also in Woodland, I had a report of 8 inches in only an hour and a half, from 4:30 to 6 p.m. on the Brown Road.
The most astonishing report of all, which came without a road location, was a foot falling in just 75 minutes in Woodland. If anyone can verify that incomprehensible rate, other than the person who reported it initially on my Facebook page, I would be very eager to hear from you. Please call me at WAGM. My number is 764-4461, extension #261 (you must hit the "#" symbol before the 261). You can also message me on Facebook. Again, it's facebook.com/tedsweather.
Not only were Washburn and Woodland walloped, other places were as well. I heard tell of a foot in New Sweden, though I never received a reply to my request for follow-up specifics. Other locations receiving very heavy snow in a short period of time included Mapleton and down toward Scopan Lake.
The precipitation rate was similar to what you'd see in a heavy summer shower, and indeed, these very heavy snow squalls fell from the same type of cloud. They are known as cumulus clouds, and the ones to watch are the ones that are becoming tall, and massed together. They are quite easy to spot in the sky and when you get used to noticing them, you won't be surprised by that "surprise shower" of snow or rain.
Back to the squalls; I have spoken with a number of people since the event and have found no one who can recall such a rapid accumulation of snow in The County.
The rapid accumulation of the snow was remarkable, and I would like to thank those who provided all of the reports.
There is a chance that the National Weather Service will conduct a special study of this event, so they are eager to continue to receive reports. Just pass them along to me, and I will forward them to the National Weather Service, as I'm doing with the data I've collected so far.
M. Nature never ceases to amaze.
Ted Shapiro holds the Broadcast Seal of Approval from both the American Meteorological Society and the National Weather Association. An Alexandria, Va. native, he has been chief meteorologist at WAGM-TV since 2006. Email him at tshapiro@wagmtv.com.