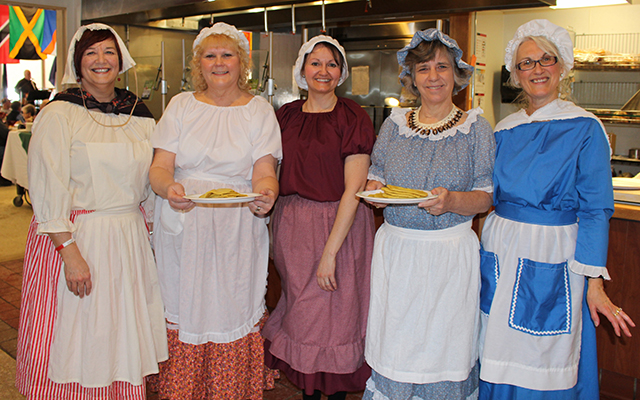 SJ-PRX-UMFKSUCRERIE-10-18_22884085
University of Maine at Fort Kent employees in traditional Acadian dress serve up ployes and maple syrup during the 2017 Sucrerie on campus. This year's Sucrerie is slated March 22. (Courtesy of University of Maine at Fort Kent)
Sucrerie celebrates maple, Acadian tradition
FORT KENT, Maine — The University of Maine at Fort Kent will host its annual "Sucrerie" on Thursday, March 22, 2018, from 11 a.m. to 1 p.m. at Nowland Hall.
There will be live entertainment by Warren and Joan Harvey. The event features free traditional maple taffy on the snow, which is sponsored by Northwoods Nectar. Also on site, Janice Bouchard, of Bouchard Family Farms, will make the ployes and will be assisted by UMFK retiree Don Raymond.
All ployes will be served by staff, faculty, and student volunteers, who will be dressed in Acadian attire provided by the Acadian Festival Committee.
The sucrerie meal will include ployes, creton, rolls and homemade bread, salad, chicken stew, New England clam chowder, tomato and rice soup, baked beans, ham, mashed turnips and carrots, green beans, mashed potatoes, potato fricassee and apple, strawberry-rhubarb and sugar pie.
The meal cost is $10 per plate.
For more information, contact Susan Tardie at 834-7557.