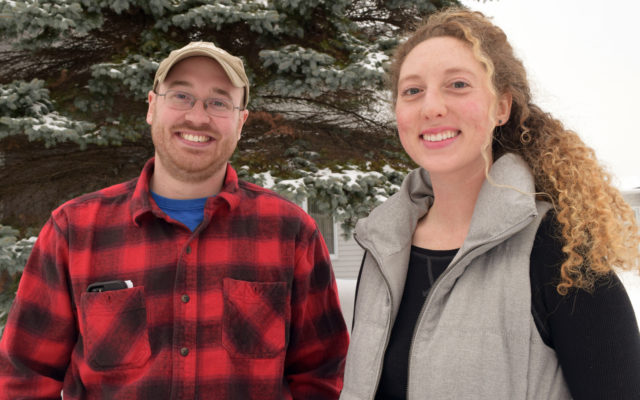 SJ-CONSERVATIONISTS-10-18_22877371
National Resources Conservation Service district employee Alexander Zetterman, left, and soil conservationist Kelsey Ramerth recently joined the team of conservation experts at the USDA Service Center on Market Street in Fort Kent. (Courtesy of NRCS)
USDA welcomes new Fort Kent conservationists
FORT KENT, Maine — The USDA's Natural Resources Conservation Service (NRCS) and the St. John Valley Soil and Water Conservation District recently welcomed two new professionals to help address resource concerns in northern Maine.

NRCS Soil Conservationist Kelsey Ramerth and district employee Alexander Zetterman recently joined the team of conservation experts at the USDA Service Center on Market Street in Fort Kent.
"We're thrilled to have Kelsey and Alex on board as we continue to support our farmers and landowners in Aroostook County," NRCS State Conservationist Juan Hernandez said. "The cropland, forests, and streams in and around the St. John Valley are important to the economy of Maine, and we want to ensure the USDA continues to provide professional technical and financial assistance there."
Hernandez added, "If you already work with NRCS or the Soil and Water Conservation District, I encourage you to stop in to our Service Center and welcome them to Fort Kent. If you aren't familiar with our programs yet, stop in anyway: Kelsey and Alex are experts who can show you best practices for mitigating resource concerns on your land."
Ramerth, who grew up in Colorado, developed an interest in prairie/soil science, ecology and biology in high school after noticing the degraded condition of ecosystems on nearby ranches. She graduated from the University of Wyoming after majoring in Rangeland Ecology and Watershed Management, and minoring in Reclamation and Restoration Ecology. After college she joined NRCS in southern Kansas as a Rangeland Management Specialist.
"Most of my experience on the job has been with large beef cattle ranches, plant biology, invasive species management, and soil health," Ramerth explained. "A large portion of my time in Kansas was spent working with (NRCS programs) and disaster recovery on ranches following years of drought and large wildfires. I moved to Maine to see a new part of the country and to keep learning through my new position here in Fort Kent. I am excited to learn all about Aroostook County, and to meet the producers and my new colleagues."
Zetterman, who is a lifelong resident of nearby St. Agatha, previously worked at the Fort Kent office in 2011 when he was a temporary NRCS employee. He is currently completing a bachelor's degree in biology with a minor in environmental studies, and will focus on federal NRCS programs while working with the St. John Valley Soil and Water Conservation District.
"I am anxious to work with producers once again through the NRCS, and I am equally anxious to meet new faces," Zetterman said.  
Zetterman and his family also operate a small livestock and vegetable farm in St. Agatha.
For more information, visit the St. John Valley Soil and Water Conservation District office at 139 Market St., Suite 106, or contact NRCS District Conservationist Eric Giberson at 834-3311 or eric.giberson@me.usda.gov, or District Manager Anthony Tardiff at sjvswcd@gmail.com.