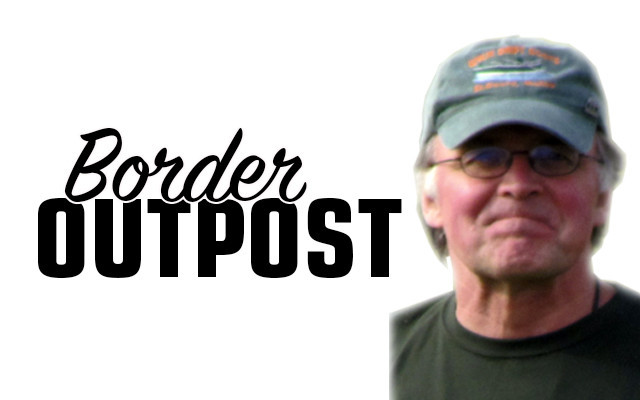 BorderOutpost-Wylie-640×400
LL Bean return policy didn't fit any more
I'm not one to lament the change in LL Bean's return policy. I wondered how they could keep it up. 
The policy harkened back to a day when everyone was presumed to be honest and the quality of the product you purchased held up, no matter what sort of abuse you inflicted on it. In 1920, that policy probably made sense. In the 2000s, it didn't make sense any more.
I admit, I've taken advantage of that return policy. By taken advantage, I don't mean abused it either. I shredded the padded collar on a pair of American made pair of boots I owned. The thing just wore out and I wanted Bean to repair them. I expressed a willingness to pay for the repairs. Why? I'm from Maine and that's what we do.
The boots are a story on their own. I purchased them for a trip to Scotland back in the day when we had a little money and hadn't fallen off the back of the pickup truck permanently damaging the left leg. I planned on doing a lot of sightseeing … walking about the country where my ancestors came from. I was rather attached to the boots. They held up superbly. I lost 12 pounds just walking and eating my way through Scotland. Finally, a few years later, the top padding on them wore out and I wanted them repaired.
"We don't do repairs like that." the young lady at Bean informed me over the phone. She said send them anyway and we'll see what we can do. I fully expected at first to get an email telling me the boots can be repaired and would cost X dollars and should we proceed? Instead, I get a box in the mail with a brand new pair of boots inside and who am I to complain?
I wear the new ones to this day, feeling a little guilty about them when the old pair could have easily been repaired. It's partly sentimentality, partly frugality on my part.
Hey, I'm from Maine. It's how we think.
I do have a confession to make. Most of my wardrobe; jeans, T-shirts, socks, flannel shirts and a whole slew of fishing gear are from LL Bean. I had no intention of returning them because I believe in the sentiment:
"Use it up. Wear it out. Make it last."
Our great New England philosopher Henry David Thoreau would probably agree with that precept as well. Hey, he was from New England, and Maine is in New England.
I'm at the age right now where I really own nothing I'd want to return for something new. I'm starting to like the 'wornness' of things I have; the Frankenstein stitches on the waxed cotton jacket, the patches sewn on my jeans, the scuffed boots and holes in the T-shirts that mean eventually they'll be rags for use in the shop while building a boat.
The original LL Bean return policy just made it too easy to not appreciate all that went into making the thing in the first place. And it made it all too easy for the slackers to game the system.
I have scads of Bean items, wearing them out with no thought of return. A quality item has a lifespan like the wearer. It's about time we learn to appreciate the things we have, that we really shouldn't live in a disposable world.
At this juncture, I probably could launch into a lecture about consumer capitalism and the buy, buy, buy mania of society today, but I won't. There's no point in it anyway. It changes nothing.
The change does happen when places like LL Bean make it less likely to dispose of things so easily. We appreciate what we have when we can't turn it in for new, just because we can. Simply stated;
"Use it up. Wear it out. Make it last."
Dave Wylie's life and work experience runs the gamut from newspaper editor to carpenter to grant writer to boat builder with lots of other work wedged in between. Wylie currently is president of a management company that oversees an elderly housing complex and president of the local historical society. He resides in Madawaska.