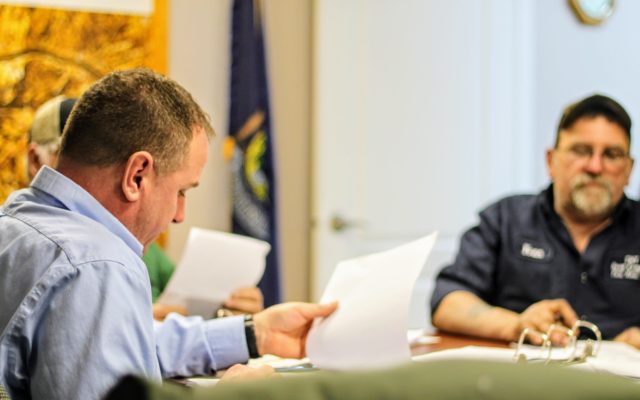 FRE_22708882
Frenchville Town Manager Ryan E. Pelletier, left, reviews sewer plant figures during Thursday's board of selectmen meeting. Selectman Yvon Dube is seen at right. (Don Eno)
Board members question reasons for excessive St. Agatha sewer inputs
FRENCHVILLE, Maine — Members of Frenchville's board of selectmen last week reviewed data regarding St. Agatha sewer flow rates, but took no action on the continued excessive rates of those flows and associated lost fees.

The two communities are part of a cooperative sewage treatment system in which waste from St. Agatha is transferred via sewer line to Frenchville, where it is treated.
Town Manager Ryan E. Pelletier told Frenchville selectmen at a Jan. 25 board meeting that the combined excess flow in 2015, '16 and '17 from St. Agatha was more than 4 million gallons.
In 2017 alone, according to Pelletier, St. Agatha sent more than 2 million gallons of wastewater to Frenchville's treatment facility beyond what had been agreed to as part of a memorandum of understanding.
"Out of respect for both parties involved, until we can meet with the Town of Frenchville, with the information we requested from them in November, the Town of Saint Agatha will not comment further on this issue," St. Agatha Town Manager Aubrie Michaud wrote Monday in an email.
In 2016, the two communities negotiated a settlement to address payments St. Agatha had owed Frechville for excess flows.
St. Agatha officials have said in the past that most of the excessive flows were due to groundwater infiltration/inflow, or "I&I."
In the past few years, St. Agatha has worked to address these infiltration problems and mandated that similar repairs be made by residents who had infiltration coming from their own connections. In addition, the town of St. Agatha has implemented a data collection method that tracks flows from specific locations within the sewer conveyance system. When data reflect abnormal flows, crews can easily locate the problem with a sewer camera system.
"As for our I&I repairs, all residents involved were absolutely amazing this summer," Michaud said. "Out of 19 groundwater infiltration issues found, 17 of them have been repaired and inspected, producing already noticeable changes in flows."
"More camera work will be done this spring to identify any further issues that we may have," she added.
"They've been telling us they are fixing the I&I," Frenchville board chair Craig Lawrence said Thursday. He commented that the continued excessive flows, however, must mean either the repairs are not sufficient or the number of St. Agatha users is higher than what was originally calculated in the MOU.
Lawrence also believes that St. Agatha officials appear to be using the excessive flows to calculate a per-gallon rate lower than what should be the case.
"Something's not right," Pelletier said. "It's not fair."
Pelletier did tell selectmen that the Town of St Agatha has paid its sewer bills, but added that those bills are likely not being generated correctly due to the excessive flows.
Frenchville's input into the server system has nearly always been within its projected limits, according to Pelletier.
Pelletier told board members he is looking into options to address the lingering issues with St. Agatha, and will update them at a later date.