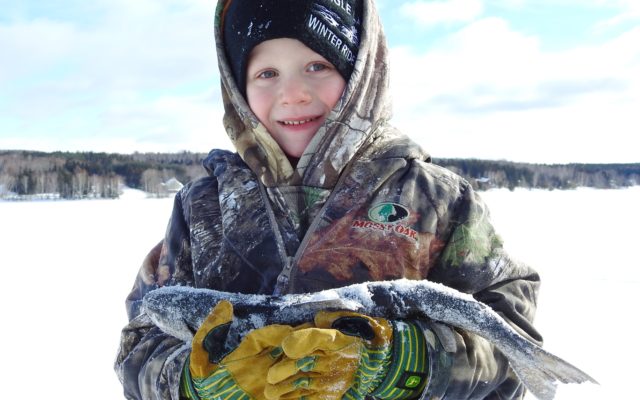 DSCN0217_19651262
Drew Belanger, 5, displays one of the fish he caught on Eagle Lake during the Long Lake Ice Fishing Derby on Saturday, Jan. 28, 2017. (Contributed)
Conditions look good with $17,000 in prizes available in Long Lake Ice Fishing Derby
ST. AGATHA, Maine — Anglers will vie for $17,000 in prize money in the Long Lake Ice Fishing Derby this weekend, Jan. 27 and 28.
Billed as the largest cash prize fishing derby in the state, the annual event, now in its 13th year, is open to fishing at Long, Cross, St. Froid, Square, Eagle, Glazier, Beau or Portage lakes, Carr Pond and the St. John River. The derby is headquartered at the Long Lake Sporting Club in Sinclair.
"Conditions have improved greatly over the past 10 days," Derby president Paul Bernier said in reference to ice levels in northern Maine. "Long Lake has at least 16-18 inches of good ice. Vehicles are riding everywhere. I would expect the same on the other lakes."
Anglers should still remain vigilant, especially in problem areas such as inlets and outlets, Bernier stressed.
Maine Inland Fisheries and Wildlife officials echoed that sentiment in a press release issued Friday warning snowmobilers and outdoor enthusiasts about deteriorating ice conditions in some parts of the state.
At least nine people had reported breaking through thin ice on snowmobiles in various parts of the Maine in the 36-hours leading up to the weekend, according to the statement.
MIFW officials advised snowmobilers to ride with a partner and be particularly careful when riding at night or in unfamiliar areas. Recent rain and warm temperatures in some parts of the state lately had deteriorated ice "conditions significantly," though all the incidents listed happened south of Aroostook.
MIFW regional fisheries biologist, based in Ashland, Frank Frost said on Friday he expects the fishing to be pretty good in northern Maine on derby weekend.
"We have seen and heard of some very nice fish caught around various lakes including Long, Square, and Eagle lakes," Frost said. "Based on our work at Eagle Lake last fall, there should be some great fishing there this winter for all three species — trout, salmon, and togue."
"There are plenty of smelt in the lakes and they're small," Bernier said earlier this month. "Perfect bait for salmon. So, we should see some good sized salmon this year."
Bernier said Friday that it was too early to predict the participation at this year's Long Lake derby.
"The much improved ice conditions will certainly have an impact on the registration totals," he said.
"Last year we had 1,043. That will be tough to beat," he conceded. "We certainly are expecting at least 900, though."
A portion of the derby proceeds benefit the Edward J. Paradis Cancer Fund. Including last year's event, the ice fishing derby so far has donated $58,000 to the cancer fund.
Cash prizes include $1,500 for the top salmon and top togue caught and $1,000 for the top brook trout and muskie caught. Other cash prizes will be awarded for perch and cusk. There also will be cash prizes for various youth categories.
This year's, derby organizers have planned an opening ceremony, scheduled for 7-11 p.m., Friday, Jan. 26, at the Lakeview Restaurant in St. Agatha.
The event will include live music from the Jerry T. Band and more than $1,000 in prizes for anyone who is registered in the derby. Derby registrations will be available at the opening ceremony and official Long Lake derby clothing will be for sale.
Pre-registration forms may be found at several convenience and sports stores and service stations in the St. John Valley, as well as in Caribou and Presque Isle. Pre-registrations will be allowed at the outlets until they are collected by derby officials on Saturday morning.
Beginning Saturday morning, registration will only be available at derby headquarters at the Sporting Club. The derby officially starts at one minute past midnight, Friday night, Jan. 26.
The official weigh station will be at the Sporting Club, except that muskie will be weighed at Joe's Country Store in St. Francis.
For more information about this year's Long Lake derby, visit online http://www.stagatha.com/derby.html or call Bernier at 543-6332 or 227-5252.