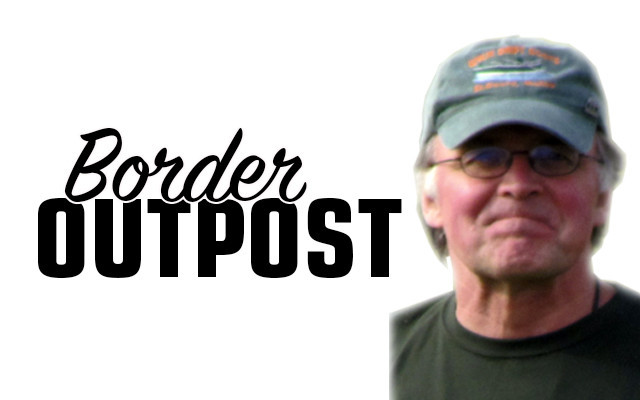 BorderOutpost-Wylie-640×400
George Orwell's Typewriter
It's a mythical apparatus, Orwell's typewriter. He must have written everything on it; "1984," "Animal Farm," "Homage to Catalonia," "Down and Out," etc. etc. And nobody knows what happened to it.
We have Hemingway's typewriters (plural), and all those other writers who slaved away on battered Royals, Smith-Coronas, Underwoods, and Adlers, but Orwell's writing machine is lost to humanity. It's the Holy Grail of typewriters … so who cares?
Well, I do. It's just the idea of it; George Orwell's typewriter.
I've said and written about the phenomenon before; I'm not a 'tuft hunter'. I don't collect souvenirs or artifacts or knick-knacks, nor do I really care about any of them I might have, other than my father's typewriter because, well … it was my father's.
George Orwell's typewriter is an altogether different species of artifact. True, I suspect it might be some anonymous looking Royal on a deal table in an antique shop in Soho, but Orwell, a.k.a.  Eric Blair wrote the most sensible and sensitive things on it. To me, it's the machine that squared the circle, plumbed the depths of the human conundrum, measured the circumference of the equator and addressed those fundamental issues that still vex us today. Of course I'm being prone to hyperbole, but whatever he wrote was written in the simplest prose, accomplished in a room with a manual typewriter, an ashtray, and a cup of very strong black tea.
I can relate. When I lived in Portland, alone in a very cold apartment, jobless and hungry, I read Orwell's "Down and Out in Paris and London." It was transformative. Yes, I was poor and cold and hungry, but so was Orwell at one time in his life. The book of his experiences gave me the push I needed just to keep going.
The book also jostled my thinking about the experience of poverty. Instead of prompting me to search for a way to enrich myself financially, it compelled me to think about the phenomenon of poverty and how to address it. It forced me to think politically about such things. It made me think about walking in the other man's shoes for a change.
I may not have written anything remotely similar or as good as Orwell. But I have tried to be as considerate as Orwell might have been to the lot of others, particularly when it came to the afflictions of the human condition.
His typewriter matters only in that it was a device he used to express himself, to write such provocative things, prodding and poking at the human condition, questioning the nature of our political systems. To what end are such political systems designed and what is their ultimate objective? It's that sort of thing.
Orwell's writing and that typewriter and were prods that got me into grant writing, not for personal gain (there was very little of that), but to work out ways in which I could help others get things they needed, like safe drinking water and better housing.
Personally I'm grateful for his using that typewriter. Because of it and what he wrote on it, I got some of my priorities right.
I suppose it's just as well that George Orwell's typewriter is probably a phantom artifact. It really belongs to all of us, or at least those of us who've been cold and tired and hungry at one time.
We may have need of Orwell's typewriter when such times come upon us again.
Dave Wylie's life and work experience runs the gamut from newspaper editor to carpenter to grant writer to boat builder with lots of other work wedged in-between. Wylie currently is president of a management company that oversees an elderly housing complex and president of the local historical society. He resides in Madawaska.